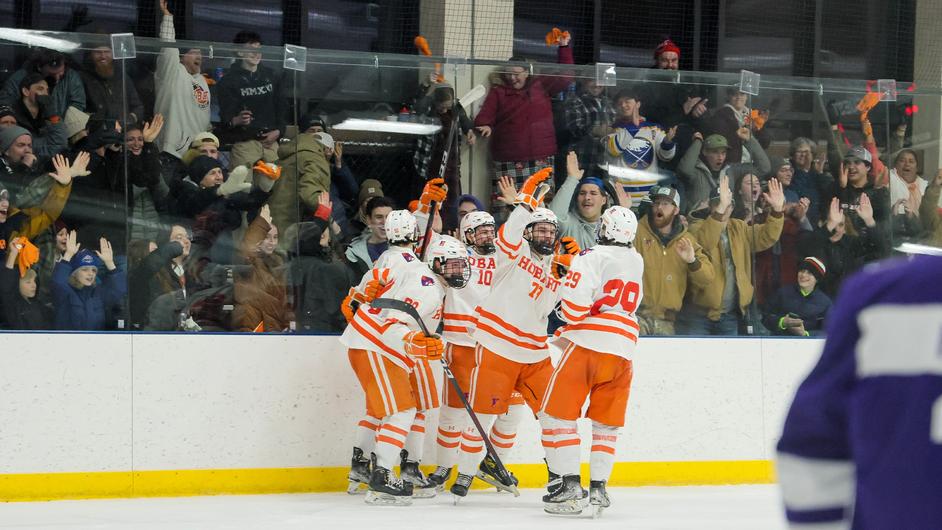 HWS News
22 March 2023 • Athletics Hobart Hockey Advances to the Frozen Four
GENEVA, N.Y.—The second-ranked Hobart College ice hockey team scored three goals in 35 seconds late in the second period, propelling them past seventh-ranked Curry College 5-1 in an NCAA quarterfinal contest. With the win, the Statesmen are now 27-2-0 this season.

Hobart will be making its fourth trip to the national semifinal. Hobart advanced to the final four in 2006, 2009 and 2019. The Statesmen will take on fourth-ranked Endicott in one of the two semifinals. The time and location of the game had not been decided at the time of publication.

Senior Brenden Howell led the way for the Statesmen with a goal and an assist in the victory. In total, 10 players recorded a point. First-year Damon Beaver played all 60 minutes in goal and made 17 saves.

Tarek Paranica scored the goal for the Colonels (22-6-1). Reid Cooper played just under 57 minutes in goal and made 30 saves.

KEY STATS
After an evenly played first 20 minutes, Hobart finished the game with a 35-18 edge in shots on goal, including a 20-7 edge in the second period.
Curry converted on its lone power-play opportunity while the Statesmen were 0-for-2 with the man advantage.

SCORING SUMMARY
Curry opened the scoring at the 8:56 mark of the second period. Paranica one-timed a crossing pass past Beaver for his ninth goal of the season. Kevin Pitts and George Vonakis were awarded assists on the power-play tally.
Hobart tied the game at the 16:50 mark of the middle frame. Howell ripped a shot from the right faceoff circle past Cooper for his fifth goal of the season. Sophomore

Luke Aquaro

and junior

Matthieu Wuth

were awarded assists on the goal.
Twenty-three seconds later, sophomore

Cooper Swift

scored what would prove to be the game-winning goal. He fired a shot from the point through a screen and into the back of the net. Junior

Artem Buzoverya

picked up an assist on the tally.
First-year

Kahlil Fontana

gave the Statesmen a 2-1 lead with his second goal of the season. He redirected a crossing pass from Howell across the goal line. Junior

Wil Crane

also had an assist on Fontana's second goal of the year.
Tanner Daniels

put the game out of reach with his 10th goal of the season. He blasted a shot off the right goalpost and into the back of the net. Graduate student

Zach Tyson

picked up an assist on the goal.
First-year

Ignat Belov

added an empty net goal with 12 seconds remaining in regulation. It was his 11th goal of the season.
COACH'S CORNER
"I couldn't be happier with how the guys handle the game," Head Coach Mark Taylor said. "Even though the first period may not have been as exciting as some other games, I thought the guys approached it right by playing it right and being patient. When they got the power-play goal against us, that definitely kicked us into another gear and it was great to see some other guys being the heroes of the game. We've been preaching all along how everybody has a huge piece of this and it showed last night. Plus, how about that crowd? The students were gone on break but the Cooler was still packed with great support from the community. One of the neat moments for me was at the end of the game when we do the post game celebration in the locker room, I looked over and saw one of our little fans sitting next to Zach Tyson with the Geneva General's cap on, giggling and this huge smile, I decided to make the group decision and give her the game puck. It's good to win, you get those moments to share."
Information for the National Semifinal game can be found here.