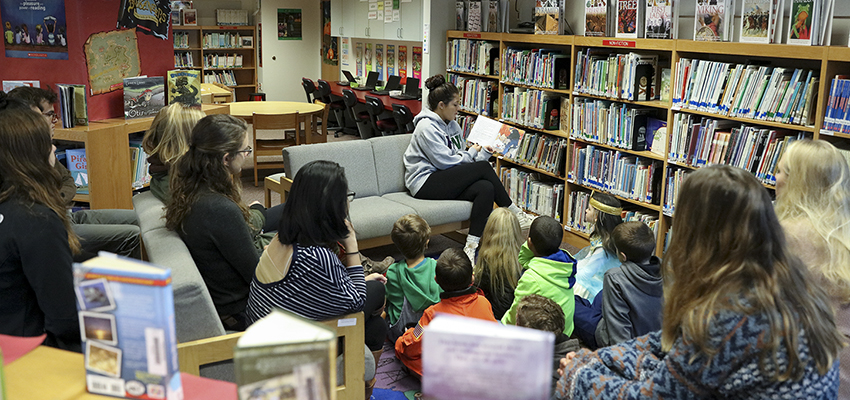 HWS News
15 July 2022 • Alums • Service The Grassroots Initiative that Grew into America Reads By Annette Stephens '24
Grounded in a rich culture of student initiative at HWS, the founders of America Reads made a lasting impact at HWS.
As Hobart celebrates its Bicentennial, the aura of past Hobart and William Smith students surrounds campus. More than 30 years ago, a group of HWS students – inspired by an education class taken with Professor Emeritus of Public Policy Craig Rimmerman – formed the HWS Literacy Corps, now known as America Reads.
"It came out of a grassroots effort to do literacy work with students in Geneva," says Hobart Assistant Dean David Mapstone '93, P'21.
Through the efforts of Jenny Schwartz '92 and Matt Adams '89 in the basement of Smith Hall in 1988, the HWS Literacy Corps was born. The program used Hobart and William Smith students as tutors, and in the process, created connections between members of the HWS and Geneva community. The effort was helped by Professor Emeritus of Education Charlie Temple and former Assistant Professor of Education Bird Stasz Jones, who also served as the HWS Student Literacy Corps director.
Coming on the scene just after the Literacy Corps' inception, Mapstone participated as a student tutor and coordinator. After graduation and a quick stint in Alaska doing literacy work, Mapstone returned to campus to run the Literacy Corps, which evolved into the Office of Community and Public Service through his leadership. Today, this office exists on campus as the Center for Community Engagement and Service Learning (CCESL).
"The organization grew and developed into a more expansive notion of service; it wasn't just focused on literacy but included service work of all kinds," says Mapstone.
Nearly 35 years later, America Reads is thriving on campus with 40 students working as tutors for local elementary students who need support learning to read, and who in the process gain a college role model. While 2020 saw the tutoring program moved online to Zoom due to the pandemic, this year students and tutors have been able to resume working in-person. Recently, they added 40 new books to their collection as part of their commitment to inclusion and community building with partner schools and programs, and to align with important community discussion topics. Fall professional development will include ways to support tutors with these new resources, purchased with input from partners at Geneva Reads.
While America Reads continues to flourish on campus, its founders have stayed true to their roots in education, literacy and community. Schwartz is the owner of bookstore Briars and Brambles in the Catskills Region of New York. Dedicated to uplifting her community, proceeds from the bookstore are donated to nearby literacy initiatives.
Jones recently published a young adult novel, Blue-Eyed Slave with her co-author Marshall Highet, a work of historical fiction based on the true story of Harry who, a slave himself, taught 1000 enslaved people to read over a twenty year period in pre-revolutionary war Charleston, S.C. The story grapples with themes of cruelty, kindness and courage. The book was released in February and is stocked on the shelves of Schwartz's bookstore, among other locations. On Friday, May 20 at 6 p.m., the authors will be reading from and signing books at the Main Street Community Center in Windham, N.Y. The event is free and open to the public. All proceeds from books sold will be donated to the Main Street Community Center. Advance reservations are not required but are recommended.
For more information, visit www.briarsandbramblesbooks.com or www.mainstreetcenter.org
Mapstone stays connected to the Hobart and William Smith community by serving students through his role as Assistant Dean of Hobart College. Adams works as operations and education director at Fourth Pig, a Canadian non-profit focused on green construction. He is the co-author of two adult education textbooks.
"It's pretty incredible what a small group of students who are committed to social change through literacy, and a couple faculty members who are committed to working with students and helping them to see how they can change the world, can do," Mapstone says.