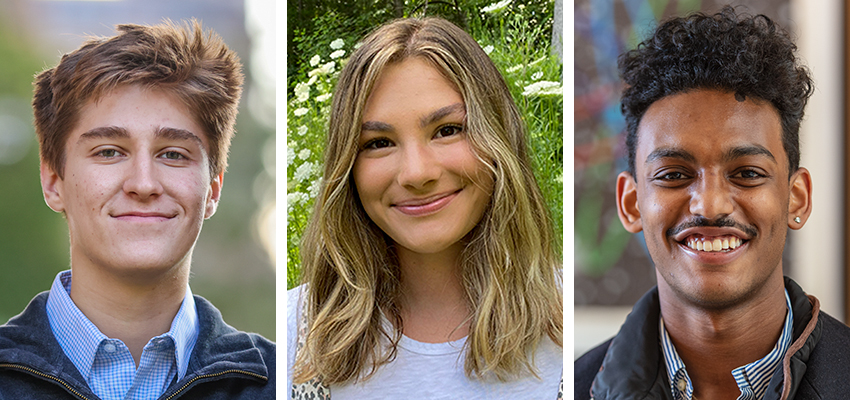 HWS News
5 January 2022 • Service HWS Students Aid College Bound High School Students
Through the FLX College Leader Program, HWS students assist Wayne County students through the college search process.
The FLX College Leader Program is a 10-week course coordinated by HWS students who work remotely with high school juniors and seniors in Wayne County guiding them through the college search and application process. The program prepares HWS students to be peer leaders while providing direct support to high school students currently applying to college.
"I am excited to be a part of their progress. I can't wait to see all the great places they will go in the fall," says Jesse Whelan-Small '24, who is a co-coordinator of the program that was initiated last spring by Edi Falk '21 and Zaheer Bowen '23.
Supported by the HWS Center for Community Engagement and Service Learning and the FLX Community School network, Bowen, an HWS student trustee, continues to direct the effort with help from student leaders and students enrolled in service-learning classes. Since graduating from HWS last year, Falk is serving with City Year Buffalo.
The virtual sessions have included a range of topics including an overview of the Common Application, the personal statement and information sessions on studying abroad, community service and internships. The HWS students assist high school students in identifying important criteria for what would make various colleges and universities a good fit for them, helping to navigate applications and giving feedback on essays. In addition, Vice President and Dean of Admissions John Young and Director of Financial Aid Beth Nepa joined the program and offered information sessions that were open to families as well as students.
As regular decision college application due dates approach, the program has begun to focus on finalizing college lists, keeping track of due dates and revising personal statements.
Sodus Central School District Program Director Valerie Fanning says she is glad to partner with HWS to offer the virtual FLX College Leader program. "We feel that the program allows for our students to understand college life on a deeper level. Our students can ask questions about the application process and learn about extra-curricular activities, housing, financial aid, scholarship opportunities and so much more."
CCESL Director Katie Flowers, who oversees the effort, commends Falk and Bowen for their "impressive initiative during an extremely challenging time of disconnection and found creative ways to leverage technology to bridge the distance and engage with high schoolers in the FLX Community Schools network. Our partners in the network work hard to connect their students with this opportunity, which saw the program grow this semester and expand to include service-learning students enrolled in Professor of Sociology Jack Harris' 'Intro to Sociology' and Professor of Economics Bill Waller's 'Economics of Caring' courses."
HWS students who want to join the program should contact Flowers at kflowers@hws.edu
The photo above features FLX College Leader volunteers Jesse Whelan-Small '24, Edi Falk '21 and Zaheer Bowen '23.