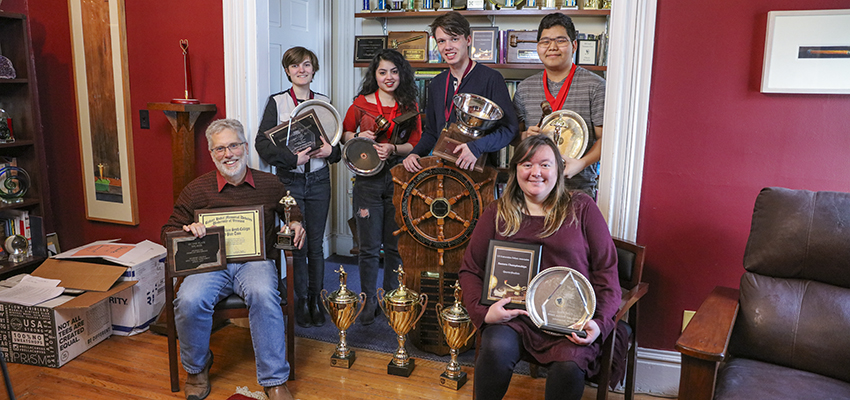 HWS News
17 January 2022

HWS Debate's Epic Fall Semester

And by epic, we mean epic! Harvard, Yale and Oxford were no match for HWS.

Fall 2021 marked another epic semester for HWS Debate. The team participated in eight debate competitions and defeated rival varsity teams from Harvard, Stanford, Yale, Cornell and Oxford universities.

Dynamic duo Sreyan Kanungo '23 and Sarim Karim '22 found competitive success this semester, earning honors at five competitions. Over the course of the semester, the pair tackled topics including the commercialization of Asian cultures in western media, public vs. private sports ownership, NATO's strategies for Ukraine and the philosophical value-judgement on love. The pair's accomplishments include:
Grand Champions at the Cross Debsoc Pre-United Asians Debate Championships (an online debate tournament organized by Indian Debaters)
English as a Secondary Language (ESL) Champions: Hart House Intervarsity Debate Competition (held by the University of Toronto)
Ranked 12th at the Yale Intervarsity Debate Competition
Ranked 22nd at the Oxford Intervarsity Debate Competition
Ranked 3rd at the Singapore Management University Debating Competition
Additionally, first-semester debater Kayla Powers '24 and Sreyan Kanungo '23 won the Silver Championship at the Strathclyde President's Cup, a prestigious debate competition held by Strathclyde University in Scotland. They also ranked 4th best novice debater in the tournament. In the finals, Powers and Kanungo debated the ethics of media showrunners.

HWS, which has a reputation for hosting premiere debate tournaments, also hosted their annual fall debate tournament online. Sixty-four teams competed from across the globe. Team President July Winters '24 served as one of the equity officers of the competition and played a key role in ensuring fairness and Vice President William Koepp '23 acted as Tournament Director, ensuring successful tournament operations.
In the photo above, Head Coach and Professor of Philosophy Eric Barnes and former Assistant Coach Marlene Pierce gather with 2021 debaters in Delancey Hall, where historic HWS Debate trophies are showcased.