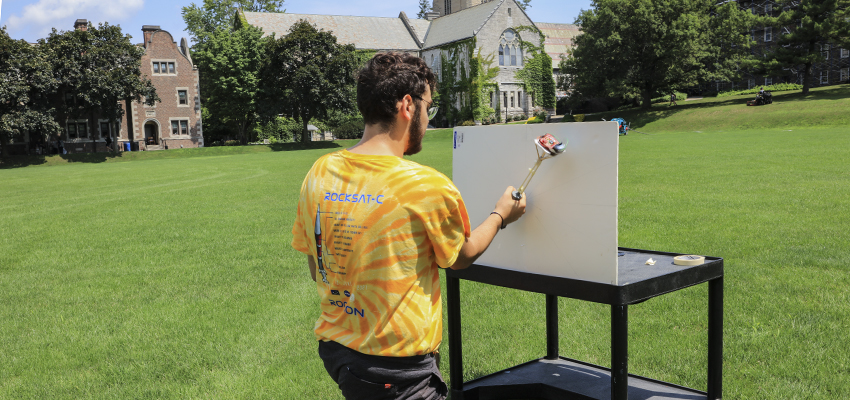 HWS News
30 September 2021

Taking Flight to Columbia University

Through his award-winning research, physics major Dimosthenis Chrysochoou '22 is exploring how STEM subjects intersect with social and environmental awareness.

"The interface between social sciences and STEM is oftentimes overlooked, but I think that to understand the importance of our work, it's really important to be socially aware," says Dimosthenis Chrysochoou '22, who this fall began the joint-degree in engineering program that HWS offers in cooperation with the School of Engineering and Applied Science at Columbia University.

An interdisciplinary perspective guided the physics major through two exciting summer research projects over the past two years. In 2020, Chrysochoou designed a project using off-the-shelf drones with built-in cameras to detect harmful algae blooms (HABs) in the Finger Lakes region.

Since HABs impact both the health and economies of local communities, he emphasized creating an affordable method for community members to gather the data needed to push for policy change to regulate HABs in their area. Advised throughout the project by HWS faculty and staff — including Associate Professor of Physics Ileana Dumitriu; Peter Spacher Ph.D., Physics Lab Technician; Professor of Environmental Studies John Halfman; and Lisa Cleckner Ph.D., Director of the Finger Lakes Institute — Chrysochoou presented the results of the project earlier this spring at the 2021 STRATUS (Systems and Technologies for Remote Sensing Applications Through Unmanned Aerial Systems) conference, winning first prize in the student poster competition.

This academic year, Chrysochoou had the opportunity to join HWS' RockSat-C team, working closely with Professor Dumitriu once again. RockSat-C offers students all over the country the opportunity to work with NASA scientists to prepare rocket payloads for sub-orbital flight. RockSat is the only NASA program that gives undergraduate students access to space. RockSat is a highly competitive program. Every year only 8 to 10 teams across nation are selected to have their payloads launched into space. These payloads must meet exacting NASA specifications while accommodating the team's experiments, which can vary widely. For a seventh consecutive year, the HWS students have been honored with the chance to work with NASA in RockSat-C program.

Chrysochoou installed a magnetometer on the team's payload in order to measure the rocket's pitch during flight, while Walden Marshall '22 and Willow Munn-Oberg '23 ran experiments related to vibration dampening. Munn-Oberg and Misty Chien '23 measured muons — a type of subatomic particle — during flight. Beyond balancing their hypothesis withing the scope of the project, students also had to perform data analysis and present their research results to both scientific and general audiences.

For Chrysochoou, the research's broader relevance was also top of mind: "In navigation, as with aircraft or autonomous vehicles, you need to know the spatial orientation… You always need to understand why you are developing the system. Who is going to benefit from it?"

While the RockSat results weren't quite as expected, the experiment led to new solutions. "With the sensor I used, I was able to determine the inclination of the Earth's magnetic field at NASA Wallops Flight Facility, the spin rate of the rocket as a function of time, and qualitative understanding of the rocket's trajectory (booster sequence, parachute deployment, etc). I didn't have enough information to determine the pitch of the rocket, but I found the solution to my problem. I just used a magnetometer. What I should have used was an inertial measurement unit, which combines three sensors: a magnetometer, an accelerometer and a gyroscope," Chrysochoou explains. And with those insights, he counts the project as a success.

In the photo above taken on the quad, Dimosthenis Chrysochoou '22 develops a method to record the pitch of the rocket as a function of time as part of the NASA RockSat-C program.