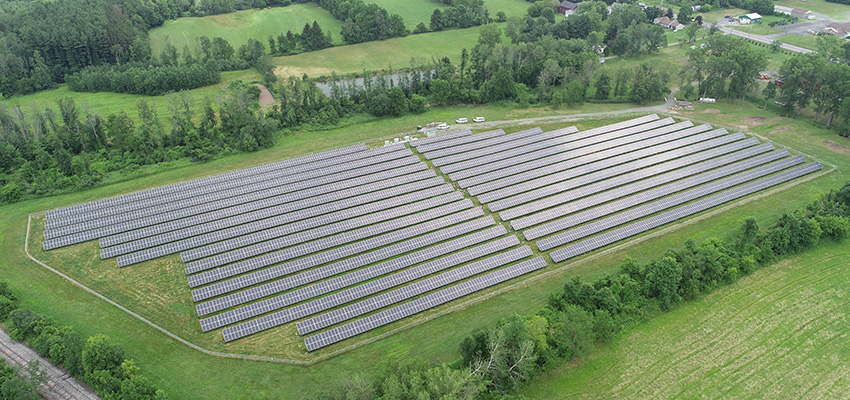 HWS News
20 September 2021 • Sustainability HWS Progresses Toward Climate Neutrality Goal
The Colleges have taken a significant step forward in the effort to become a carbon neutral campus, by acquiring carbon offsets for 10 percent of the institution's natural gas emissions.
Hobart and William Smith began a new chapter in the effort to reduce the institution's carbon footprint. In addition to decreasing the Colleges' carbon emissions by more than 6,000 metric tons since 2007, HWS will acquire certified carbon offsets for the institution's natural gas emissions.
The largest source of the Colleges' carbon emissions currently comes from burning natural gas to make hot water and to heat campus in the winter. This summer, HWS signed an agreement for our natural gas supplier to provide HWS certified carbon offsets for 10 percent of the institution's natural gas emissions, ensuring the reduction of global greenhouse gasses below the quantity emitted.
Over the next few years, the Colleges will continue to increase its carbon offset program. "This is the next step," says Sustainability Manager Michael Amadori. "Even as HWS works to decrease our own carbon footprint, we want to be a part of global solutions surrounding sustainability initiatives and climate action."
One hundred percent of the Colleges' electricity is now carbon-free. HWS generates electricity from two solar farms, located in the Geneva, N.Y. area, together representing one of the largest solar installations at a higher education institution in New York State. Together, the HWS solar farms deliver 50 percent of the Colleges' electricity; the remaining 50 percent comes from wind and hydropower.
HWS has been publicly tracking emissions through the Second Nature reporting platform since 2007, when emissions reached 16,000 metric tons. Last year, the Colleges emitted less than 10,000 metric tons despite having added square footage to campus in the form of buildings like the Gearan Center for Performing Arts, a LEED-certified facility.
During Hobart and William Smith's 2007 Convocation, former President Emeritus Mark D. Gearan L.H.D. '17, P'21 signed the American College and University Presidents' Climate Commitment, committing the Colleges to climate neutrality by 2025. The Commitment recognizes the unique responsibility that institutions of higher education have as role models for their communities and in training the people who will develop the social, economic and technological solutions to reverse climate change.
Across the United States, only nine colleges and universities have announced they achieved carbon neutrality, and many include carbon offset purchases in their sustainability programs.