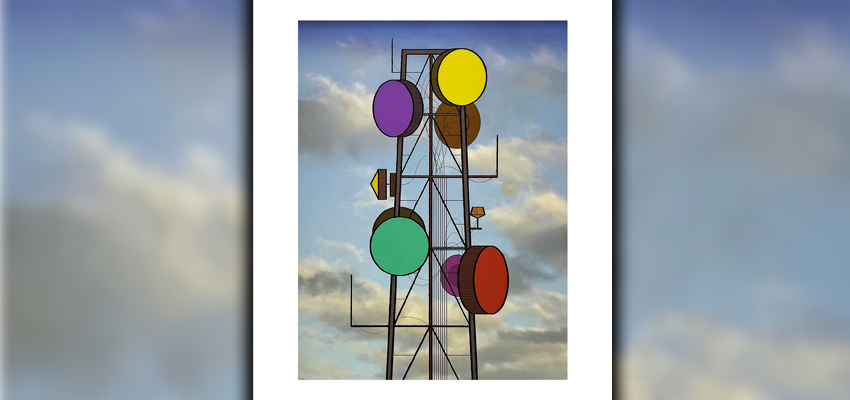 HWS News
25 October 2021 • Arts • Faculty Printmaking: "New and Improved"
A new exhibit showcases HWS professor and artist Nick Ruth's latest work exploring everyday encounters with the infrastructure of social systems.
This month, "New and Improved" opened at the Buffalo, N.Y.-based Mirabo Press. In the series of prints, depicting stylized billboards, road signs and communication towers, Class of '64 Endowed Professor of Art and Architecture Nick Ruth highlights the presence of these objects in daily life and the symbolic value they accrue and emit.
Curated by Ruth and the Mirabo printers, "New and Improved" showcases traditional and alternative etching techniques. The exhibit also includes photogravure prints and a range of mixed process works that layer laser and vinyl cutting, pochoir, collaged monotypes and technical drawing.
The show runs through Nov. 6. Learn more.
Much of Ruth's work was made possible through the funding the Class of '64 Endowed Professorship.
An artist, curator and educator, Ruth works in a variety of media. His recent printmaking and installation explores the relationship between the built environment and human desire, and in particular addresses the function of communications infrastructure such as cell towers and signage as expressions of cultural values. He has curated several printmaking exhibitions including "Signs and Signifiers" (2017), "Within/Without" (2015) and "Nice Place to Visit: Printmaking and the Anxious Landscape" (2010). Augmenting his work as an artist, Ruth has a focus on the field of cultural geography and the map as a rhetorical device.
Ruth's work has appeared in more than 100 exhibitions in the United States and internationally, including IPCNY New Prints 2021/Summer, InkMasters Cairns (2021), 92nd Print Center International Competition (2018), Global Matrix IV (2017), 8th Douro Biennial (2016) and the 9th Triennale Mondiale de l"Estampe Chamaliers (2014).
At HWS, Ruth teaches courses in painting, drawing and printmaking, prioritizing conceptual and material exploration and visual invention. He has led semester abroad programs to Rome, Italy; Galway, Ireland; and Auckland, New Zealand. He has been recognized with the HWS Faculty Teaching Award as well as the HWS Faculty Prize for Scholarship.
Learn more about his work at www.nicholashruth.com.