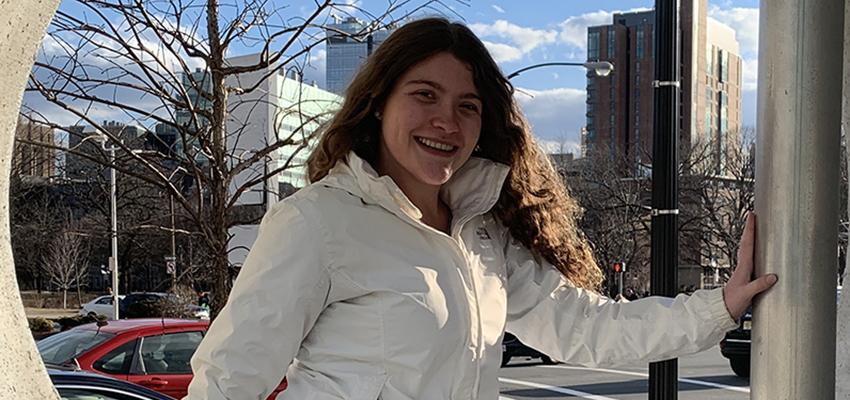 HWS News
2 October 2021

Challenging Social Inequalities

Allison Jordan '21 graduated magna cum laude in anthropology and sociology and joined Steps to Success at Notre Dame Mission Volunteers, an AmeriCorps program. She's also using her post-graduate year to apply to law school. In this Q&A, Jordan shares what motivates her to serve the Boston, Mass. community, and her vision for a better criminal justice system.

Why are you an AmeriCorps service member?

Since my first year of college, I knew I wanted to participate in a service program. I chose AmeriCorps because I thought that it was important to start local. The pandemic also made it clear that there were challenges in my backyard I could help address.

What is the mission of Steps to Success? Why did you choose this placement?

I was drawn to Notre Dame Mission AmeriCorps program and Steps to Success because of their mission to promote equity and equality among students in Brookline. No matter their background, Steps to Success guides students through their education, helps them achieve their career goals, and prepares students for college.

What are your responsibilities at Step to Success?

Overall, I help students identify their career goals, provide college help, and find ways to help students to achieve their future ambitions. I also support the Teen Advantage program.

Tell me about your HWS journey. What experiences on campus helped clarify your future goals?

I went to college knowing I wanted to study anthropology and sociology, and that I wanted to pursue a career in criminal law. In my senior year of high school, I read Just Mercy by Brian Stevenson, which talks about the death penalty as well as other issues in our criminal justice system. Then I took SOC 100 with Professor James Sutton, an expert in criminology. Not only did that illuminate the issues going on in our society, but also the issues going on in the justice system. I continued to take classes with Professor Sutton, as well as law and society courses, and declared a pre-law minor my junior year.

A meaningful experience for me was when the Witness to Innocence event took place on campus. Two men who had been exonerated from death row gave speeches. I also had the opportunity to meet them at the President's House. I knew then that I wanted to help fight the death penalty. My junior year, I completed an independent study on whether or not the practice was ethical. Now, I am applying for law school.

What experiences at HWS prepared you for your AmeriCorps role?

My classes in anthropology and sociology have shown me not only what inequalities exist in the world, but how to find solutions. My experience in the LEADS program at the Centennial Center for Leadership taught me how to communicate with different people, how to problem solve, and how to get to know the community I am working with. The skills I have developed at Hobart and William Smith will allow me to engage with the community I am working with in meaningful ways. I am excited to apply them through my journey as an AmeriCorps member and beyond.