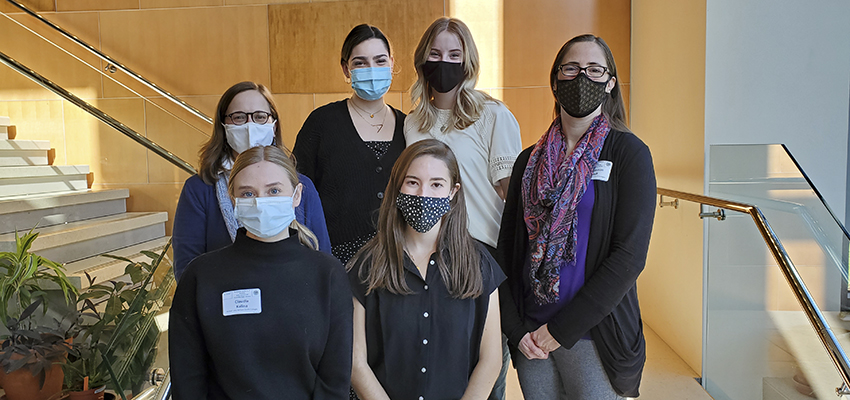 HWS News
23 November 2021 • STEM Plant Evolution and Water Quality
Students present at the annual Rochester area science conference.
At the Rochester Academy of Sciences' annual fall conference, HWS students presented on topics ranging from water contamination to evolutionary relationships among plant species, describing not only their research but how it's likely to impact the world outside the lab.
Accompanied by Assistant Professor of Chemistry Elana Stennett and Associate Professor of Biology Shannon Straub, four students participated in the Nov. 6 conference, hosted at Nazareth College, where other undergraduates, graduate students, and college and university faculty gathered to share research progress and results.
Stennett says the conference "provides students with a chance to practice summarizing and selling the work that they do. Scientists study important questions, but we have to make it clear why the question is important. A conference like this usually involves viewers who already have some idea about the research questions. This [experience] provides the additional advantage that the students might get new ideas or meet people doing similar types of research and can share more specific ideas or additional questions to probe."
Biochemistry majors Alexandra Davidson '24 and Kara Gilleland '23 presented posters highlighting the work they completed this summer in Stennett's research lab.
Davidson's presentation involved her initial studies on ways to remove emerging contaminants, such as certain pharmaceuticals and per- and polyfluoroalkyl substances (PFAS) from the water supply. PFAS are chemicals used in a variety of products, such as nonstick cookware, cleaning solutions, and stain- and water-resistant fabrics and carpeting, and may be linked to harmful health effects in people and animals.
Gilleland's poster focused on her water contamination research, specifically the role of buffer molecules in membrane fouling. Buffer molecules — a mixture of an acid and a base that are structurally similar — were used to maintain the solution's pH value. Membrane fouling is the process in which a solution or a particle is deposited on a membrane surface or in membrane pores, decreasing the membrane's performance.
Biology majors Erika Sipos '23 and Claudia Kalina '23 presented the results of their summer research in Straub's lab. The session not only gave the students an opportunity to share their research results, but also to "learn about the latest research happening at other schools, and to network with STEM students and faculty from other institutions," Straub says.
Sipos' work ascertained the evolutionary relationships among members of a subtribe of the milkweed and dogbane plant family, Apocynaceae, based on data from ribosomal DNA cistrons (segments of DNA that are equivalent to genes), and chloroplast and mitochondrial genomes. A chloroplast is the structure within the cells of plants and green algae where photosynthesis occurs.
Kalina presented the results of her examination into the species boundaries and evolutionary relationships among a group of closely related milkweed (Asclepias) species of the Great Plains, based on whole chloroplast genome sequences. A chloroplast genome contains genes necessary for functioning of chloroplasts and maintaining their structure.