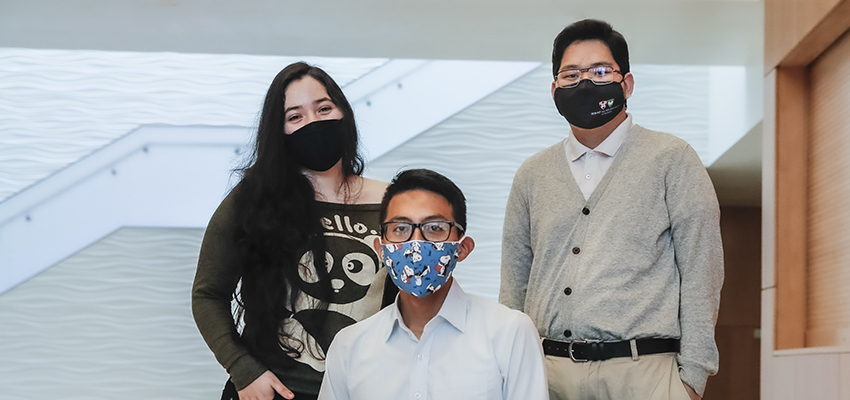 HWS News
2 March 2021

HWS Students Land ASIANetwork Fellowship

Three students have received the ASIANetwork Student-Faculty Fellows Program Award. This award will fund a travel grant to Tokyo, Japan, to study the city's history of transformation and to develop proposals for the post-pandemic tourism industry.

Jonathan Garcia '23, Roxana Peña '23 and Tenzin Yonten '23 are the 2021 recipients of the prestigious ASIANetwork Student-Faculty Fellows Program Award. Their project, Re-Orienting Japan: Envisioning post-pandemic tourism through history, will take them to Tokyo, Japan, to study how the city has persevered through historic disasters and adapted to hold global events, including the Olympics. They will also envision how the city can jumpstart tourism after the coronavirus pandemic. They will be accompanied by their academic adviser for the project, Associate Professor of History and Asia Studies Lisa Yoshikawa.

"Japan has a history of having to reinvent itself. Our goal is to collect data from the last century that showcases this resiliency and to develop strategies for marketing tourism that can be applied when the world opens back up," says Yonten, an English and Asian studies double major.

Their project will examine the evolution of Japan Tourist Bureau (JTB) efforts during the 20th to the 21st centuries to attract foreign tourists to Tokyo, as the target audience, the city and Japan's place in the world changed.

In anticipation of their studies abroad, Garcia, Peña and Yonten are completing an independent study this semester. Using primary sources and guidebooks, they are studying how JTB overcame past ruptures, including the destruction of the city by the 1923 earthquake and the 1944-45 fire-bombings, and the reshaping of the metropolis for the 1940, 1964 and 2020 Olympics. During their field work, they will continue their research through collaboration with other students and researchers in Japan.

Garcia, Peña and Yonten say they are eager to be a part of imagining a post-pandemic world. Through a shared interest in Japanese culture and society, the group arrived at their project proposal. Garcia, a mathematics and computer science double major and member of the Teacher Education Program, says their combined interest captured ASIANetwork's attention. "I think that's why we won the grant. They could see how much we wanted this."

Yonten, already an international student from Bangalore, India, says "gaining perspective" has always been his motivation for traveling and studying abroad. "I always want to learn about a culture from within," he says. "When you're somewhere new, you have to juggle a lot of things. It makes you into a better global thinker, which is something I aspire to," he says.

Garcia and Peña, both members of the Posse program, are studying Japanese language at the Colleges before their departure. Peña, an anthropology major and Asian studies and biology double minor, is already quadrilingual; in addition to English, she speaks Spanish, American Sign Language and Spanish Sign Language. She has been studying Japanese for a year.

"I have wanted to go to Japan since childhood. My aunt is half-Japanese. When she visited and talked about home, her stories always fascinated me. To work with Jonathan and Tenzin and Professor Yoshikawa, on a project we're passionate about, it's basically a dream," Peña says.

In addition to alerting Garcia, Peña and Yonten about the ASIANetwork opportunity, Yoshikawa helped the students refine their proposal — elevating their idea into a viable research opportunity. "She has been really wonderful and supportive. She rocks," Garcia says.

The ASIANetwork Fellowship is funded by the Freeman Foundation. Each year, the award is distributed to liberal arts college students to create opportunities to "engage a current global issue in an Asian context" through "interaction and collaboration with the people of Asia." The fellowship seeks to foster students' practical and professional skill development in preparation for their careers and professions.

ASIANetwork is a consortium of liberal arts colleges that "strives to strengthen the role of Asian Studies within the framework of liberal arts education." The Colleges have been a member since the 1990s.