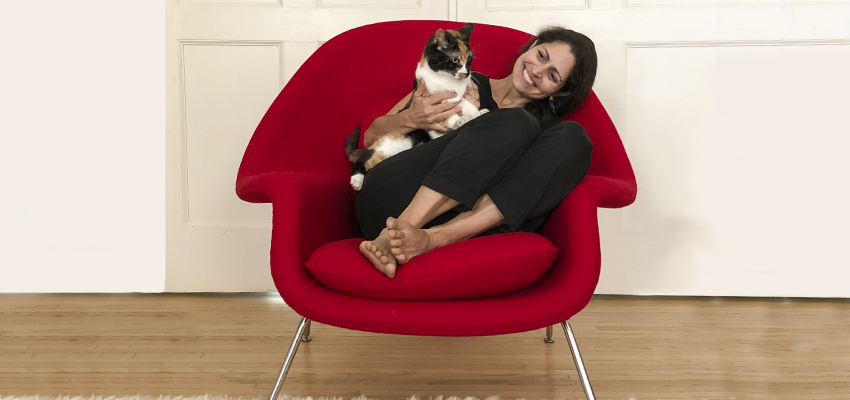 HWS News
25 June 2021 • Humanities Good Morning America Profiles Professor Makker in Making Asian American Pacific Islander History
Good Morning America's celebration of Asian Americans and Pacific Islanders who are "making history right now" features Associate Professor of American Studies Kirin Makker, an architect, artist and writer.
Associate Professor of American Studies Kirin Makker is among the "rising stars on the cusp of becoming household names" in "Who is Making Asian American Pacific Islander History in 2021: The GMA Inspiration List."
Good Morning America and ABC News asked influential AAPI public figures — intellectuals, entrepreneurs, entertainers, celebrities, athletes and artists — to nominate fellow members of the community whose influence "will become monumental."
Makker was nominated by Sejal Shah, author of the debut essay collection This Is One Way to Dance (2020), who writes that Makker "is always searching for new ways of seeing, representing and moving through the world."
"It changed my life to find a soul sister, a multimedia maker and artist, fellow South Asian American academic near me in western New York," Shah writes. "[Makker] models collaborative work in her teaching, transcending conventional scripts. Her work explores invisible illness, managing pain, feminist pedagogy and narrative reparation. She moves across and between disciplines as she makes marks on the page, and on the world through her scholarship, guerilla arts and activism. As a biracial/bi-ethnic Asian American artist, her work begins from a point of multiple lenses."
With her recent project, The Womb Chair Speaks, Makker and interns Abbey Frederick '20 and E. Ainsley Rhodes '19 reimagined Eero Saarinen's classic Womb Chair, an icon of midcentury modern design.
As Shah writes, "Her collaborative Womb Chair Speaks project explores invisible illness, living with and managing pain, feminist and inclusive pedagogy, and narrative reparation by retooling an icon of modernist design, Eero Saarinen's Womb Chair. The project refashions both the chair itself–through collective sewing and discussion–and the womb's conceptualization in culture and medicine through discussion and storytelling. She prioritizes and models this kind of collaborative work with students and other artists, challenging and transcending conventional roles and scripts."
View the GMA Inspiration List.
Makker is an Associate Professor of Architecture and Urbanism in American Studies at Hobart William Smith Colleges where she teaches drawing as a tool for storytelling and a seminars in critical space theory and practice. She holds a Ph.D. in Regional Planning, and M.Arch. and an M.A. in English.
Trained as an architect and scholar, she works both as an artist and writer, and has presented, exhibited, and published her work nationally and internationally. This fall she will be exhibiting cyanotypes from her series Blueprints: Concerning Legibility at the juried 67th Annual Finger Lakes Exhibition in Rochester and publishing an article about the Womb Chair Speaks in the interdisciplinary journal Feminist Studies. She's currently revising an article on the same project for Art Journal, this one co-authored with her former students Frederick and Rhodes. To see what she's working on, what her students are making, Seneca Lake sunrises, and the occasional photo of her cat, follow her on Instagram @kirinmakker