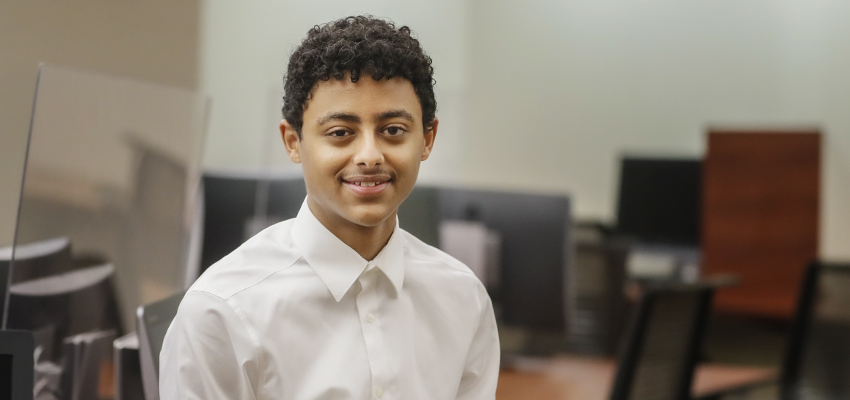 HWS News
28 January 2021

Ayele '23 Secures Tech Internship at UnitedHealth Group

Kidus Asmare Ayele '23 will join UnitedHealth Group as a technological development intern this summer.

With a strong academic background in computer science, Kidus Asmare Ayele '23 will begin a 10-week internship with UnitedHealth Group in Raleigh, N.C., in June.

Working on a team of eight summer interns in the company's software engineering group, Ayele will put into practice his experience with programming languages as he works on UnitedHealths technological development project. In the process, he will gain skills in everything from software, product and platform engineering to enterprise architecture, data and cybersecurity.

A computer science and economics double major, Ayele credits Associate Professor of Mathematics and Computer Science Stina Bridgemans classes as valuable preparation. The topics covered in her classes are very relevant to what is needed to succeed within this internship, he says.

During the internship search and application process, Ayele relied on the staff at the Salisbury Center for Career, Professional and Experiential Education, and the mentorship of HWS Trustee Michael Rawlins '80, P'16, for advice and support.

Looking ahead to the internship, Ayele sees an opportunity to not only develop his computer science skills but apply them to real-world issues, noting that more experience with solving different problems will help me find better solutions.

"I have always tried to help my community in any way I can, whether through tutoring students or building websites for local businesses," he explains. Whether in the classroom, his future career or in the community, "working with UnitedHealth Group to improve health care will provide me the opportunity to help people in a more significant way."

On-campus, Ayele works as a Resident Assistant for the Office of Residential Education and a Teaching Assistant for the Computer Science Department. He is a Salisbury Diversity Fellow and a member of the Coding Club and intramural soccer team. Ayele previously interned as a web developer for the non-profit tutoring program, GIVE Youth.