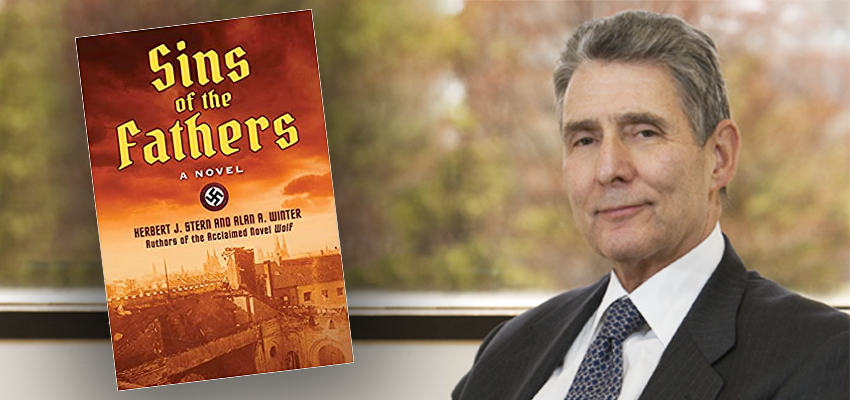 HWS News
17 December 2021 • Alums Road to World War II
In Sins of the Fathers, the second in a planned trilogy of historical novels by Honorary Trustee Hebert J. Stern '58, P'03, LL.D. '74, Stern and co-author Alan A. Winter continue the story of Adolf Hitler's political rise and the road to World War II. Bill Boyd reviews the new thriller below.
Sins of the Fathers, now available for preorder, is a sequel to 2020's Wolf, the second of a planned trilogy of World War II-era novels by Honorary Trustee Hebert J. Stern '58, P'03, LL.D. '74 and Alan A. Winter. Sins of the Fathers will be published in February 2022, following Wolf's January paperback release.
Nominated to the federal bench at age 36, Stern served as judge of the U.S. District Court for the District of New Jersey and as judge of the United States Court for Berlin, where he presided over a hijacking trial in the occupied American Sector of West Berlin. His book about the case, Judgment in Berlin, won the 1974 Freedom Foundation Award and became a film starring Sean Penn and Martin Sheen, who portrayed Stern. A former trial lawyer, Stern prosecuted the mayors of Jersey City, Newark and Atlantic City, N.J. as well as the U.S. attorney for the District of New Jersey, and authored Diary of a DA: The True Story of the Prosecutor Who Took on the Mob, Fought Corruption, and Won and the multi-volume legal work Trying Cases to Win. He earned a B.A. in history from Hobart and a J.D. from the University of Chicago Law School. He was awarded an honorary degree from HWS in 1974, the Hobart Medal of Excellence in 1990 and was lead donor for Stern Hall, which provides the Colleges with 27,000 square feet of integral academic space.
---
Bill Boyd's Review of Sins of the Fathers
Once he became Chancellor, how did Hitler gain control over the German military and move it on the path to World War II? Did any of the military leaders resist this thrust toward war and conquest? The authors have constructed a novel that gives their answers to these questions. This is the second in a planned series of three historical novels and follows the novel Wolf, which shows how Hitler rose to power to become the Fuhrer. In the first volume, we are introduced to a wounded World War I soldier who has lost all memory of his life prior to waking up in the hospital and is given the identity of another dead soldier, Friedrich Richard. In Pasewalk Hospital, Friedrich befriends a blind Corporal Hitler. By caring for him, Friedrich builds a lifelong bond that Hitler depends on, giving readers a view into Hitler's inner circle. Sins of the Fathers carries us from Hitler as Chancellor up to the Munich conference of 1938 and Kristallnacht. Friedrich mistakenly thinks that Hitler's anti-Semitism will go away once he has power. When it doesn't, Friedrich works in secret to thwart Hitler's policies and his grab for power.
Herbert J. Stern '58, P'03, LL.D. '74 and his coauthor Alan A. Winter have written an engrossing novel of this period. Stern, a lawyer, former Federal prosecutor and judge, as well as an honorary Hobart and William Smith trustee, has written several successful books, this being his second novel. Alan Winter has written several novels including the popular Savior's Day. They make a good team.
As the novel opens, Max Klinghofer, Friedrich's Jewish friend, has been tortured to death in Dachau. Friedrich feels that it is his duty to avenge Max by killing the guards who killed him. We are treated to the first of Friedrich's clever schemes to accomplish his aims.
The main story thread involves Hitler's efforts to eliminate any opposition among high ranking military officers. Counter to this is the plotting of Friedrich and a few patriotic officers and other officials to oppose Hitler's plans to take over neighboring countries, such as Austria and Czechoslovakia, possibly leading to war. In the meantime, they must also convince the British not to cave in to Hitler's demands. All of this is happening while Friedrich's activities are in constant danger of being discovered by Himmler, head of the notorious surveillance and terror agency, the Schutzstaffel (SS), and Heydrich, another high ranking SS officer. They are especially suspicious when they can find no trace of Friedrich at Pasewalk Hospital.
But Friedrich is in a position of power as the Liaison to the Fuhrer for the armed forces and a trusted friend of Hitler's. His collaborators include sympathetic military officers; Bernard Weiss, an exiled police chief with connections to British intelligence; as well as friends outside of Nazi circles willing and able to help him. Returning from the first novel in the series are Kitty, who runs the brothel Pension Schmidt; an old girlfriend, Marta, who runs Max's old nightclub, The Nightingale; plus Heidi, who works as a translator for an admiral in charge of military intelligence.
Friedrich meets a very talented photographer, Carla, for whom he develops a deep and abiding love. Because she is assigned to photograph high level officials, Carla is able to learn about military plans through casual conversation. Together they attend art shows to make contacts with officials and intelligence officers in other countries.
This novel will keep you on the edge of your seat as Friedrich finds himself and others in perilous situations. Yet he is able to cleverly extricate himself each time. Of course, we are well aware that Friedrich and his co-conspirators will not be able to remove Hitler from office and avoid war, but they are always very close to success while fending off danger after danger. Throughout, Friedrich searches for who he really is, discovering only an occasional small clue.
This is a marvelous adventure novel. The reader experiences 1930's Nazi Germany, the 1936 Olympics, the takeover of Austria, the hopes and fears of Prime Minister Chamberlain and the British at Munich, the ineffectual efforts by the United States to get other countries to take in the Jews that Germany is trying to drive out, and many other historical events. While this is primarily a suspenseful spy story, it gives insight into the world leading up to World War II. You see what the German high command may have been thinking as they were propelled closer and closer to Armageddon. And you will see the suffering and humiliation that Jews endured leading up to the war. It is a superb and exciting blend of intrigue and history that will keep you on the edge of your seat from beginning to end.
Boyd, who reviewed Wolf in the spring 2020 issue of the Pulteney St. Survey, holds a Ph.D. in mathematics from the University of Tennessee, Knoxville, an M.S. in computer science from the University of Memphis and a B.S. in physics from Rhodes College. The former Visiting Scholar in the Quantitative Analysis Center at Wesleyan University is married to President Joyce P. Jacobsen.