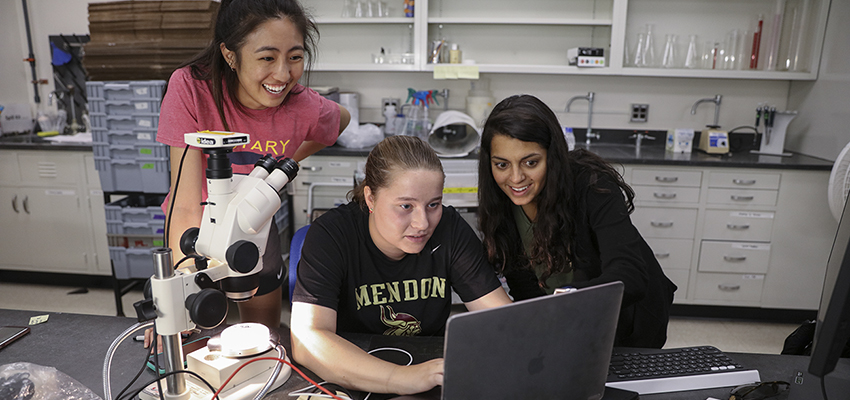 HWS News
27 April 2021 • STEM New STEM Research Stipends for HWS Students
A new grant will fund annual research stipends for Hobart and William Smith students in science, technology, engineering and math-related fields.
A three-year, $247,500 grant from the Sherman Fairchild Foundation will broaden and diversify access to research funding for Hobart and William Smith students. The stipends will support research experiences for students who are in the early stages of their scientific education and for those from historically underrepresented backgrounds in STEM fields.
Beginning in the summer of 2021, HWS will offer annual stipends of $4,000 each to students pursuing summer research, both on campus and at other prominent research institutions.
A number of students selected will be based on campus, working with HWS faculty scientists; others will conduct research at Pennsylvania State University under the guidance of forensic scientist Professor Mitchell Holland '84, an international expert in DNA identification; and others will pursue research at the Cornell AgriTech campus in Geneva, where HWS maintains a longstanding academic partnership.
"STEM research experiences are high-impact practices that engage students directly in the process of scientific exploration and increase the persistence and graduation rates in STEM fields," says Associate Dean for Faculty Development and Affairs Joe Rusinko. "HWS research students are not laboratory assistants; they are co-investigators into our unknown world. They design experiments, collaborate within their labs, with other labs on campus often from other departments, and with labs at other institutions. Thanks to the Sherman Fairchild Foundation's support and other ongoing initiatives, we anticipate the number of research students on campus this summer to reach an all-time high."
In addition to stipend support, the grant also includes funding for research supplies, travel to conferences to present research, and housing for students conducting research at Penn State. (Housing costs for the other students will be covered by HWS.)
The HWS-mentored research stipends are designed to increase the number of research participants who meet the minimum academic requirements and who are rising sophomores, incoming transfer students from a two-year institution, and/or identify as belonging to a racial or ethnic group that has been historically marginalized by U.S. STEM institutions.
In addition to any minimum requirements, to be eligible for the off-campus programs, students will have completed a previous research experience at HWS and be able to clearly articulate how their participation will impact their future after graduation.
This is the second grant the Sherman Fairchild Foundation has awarded HWS; a previous, five-year $500,000 award supported the purchase of scientific equipment beginning in 2011.
HWS has sponsored an Undergraduate Summer Research Program since 1987, enabling students to work individually or in a team with a faculty member on a research project over an eight-week period. Generations of students have developed experience and expertise through the program at various locations including on the HWS campus, at Cornell AgriTech, with the Audubon Seabird Restoration Project and through other research institutions across the country. The program has grown from roughly 20 students to nearly 100 each summer. The majority of research opportunities are in the natural laboratory and field-based sciences, though in recent years the program has expanded to source other STEM disciplines as well as the humanities, arts and social sciences.
In the photo above, Cornell AgriTech Lab Technician Mei-Wah Choi '16, April Moffett '22 and a Cornell Ph.D. candidate in plant pathology and plant-microbe biology conduct research on the fungal pathogens that cause apple scab in 2019.