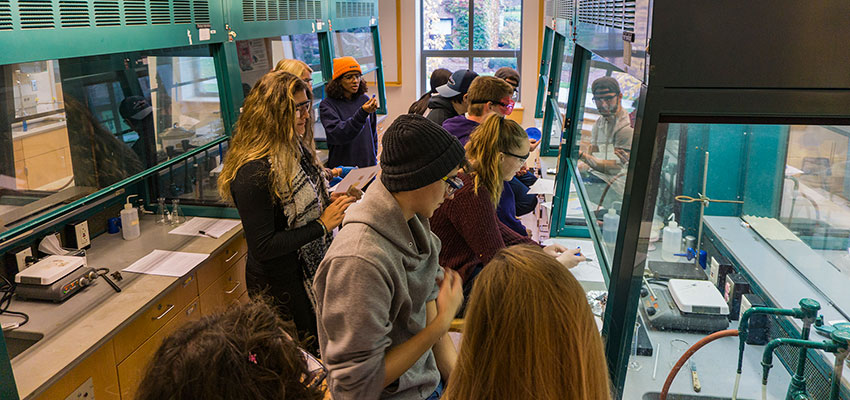 HWS News
3 November 2020 • Arts • Research • STEM The Substance (and Science) Behind the Art
From painting and literature to comedy and country music, first-year students at HWS probed the making and meaning of a wide range of artistic media. In courses offered through the First-Year Seminar Program, students developed and practiced critical thinking and communication skills as they explored how creativity ripples across time, cultures and academic disciplines.
Undertaking art projects to reinforce scientific principles.
In "Old Art Meets New Chemistry," students studied art history and the scientific discoveries that impacted painters, while simultaneously undertaking art projects to reinforce fundamental scientific principles. Under the guidance of Assistant Professor of Art and Architecture Liliana Leopardi and Professor of Chemistry Walter Bowyer, students studied "art from the 15th century onward through a scientific sense to better understand how works were made from a technical point of view (from pigments to supports used) and therefore how they should be restored/conserved by museum professionals in order to ensure their integrity for centuries to come," Leopardi says.
Zhengrui "Mary" Wei '23 was interested "to learn more about how artists in the past created their works and how their works are preserved." Though she doesn't have an extensive background in chemistry, she says she enjoyed the class, especially the lab experiments, including making indigo-dyed textiles, oil paints and pigment from a red beetle.
Cultural semiotics deals with how people orient themselves in the world.
In "Build Your Own Westeros," students analyzed the Game of Thrones universe and other fictional worlds — and built their own — as they "learned about culture, identity formation and intercultural exchange," says Associate Professor of German Area Studies Eric Klaus. The course grew out of Klaus' interest in cultural semiotics, "which deals with how people orient themselves in the world, make sense of their surroundings and find meaning in their lives," he explains.
Greta Weiss '23 says that studying fictional cultures and having the opportunity to create her own "seemed like a very creative way of combining different class subjects such as government and politics, history, creative writing, language, sociology and others."
For Rory Allen '23, the promise of the course's title caught his eye, but the chance to "understand the ebbs and flows of culture really peaked my interest," he says. "Culture is a great interest of mine, and an entire course based off of the analysis and creation of culture sounded interesting beyond belief."
Exposing students to new perspectives, ideas and ways of thinking and learning is a central underpinning of the Colleges' curriculum broadly.
In Associate Professor of Religious Studies John Krummel's seminar, "Religion and Film: Exploring Meaning in Film," he and his students examined the implicit and explicit religious implications and symbols in experimental, avant-garde and art films. Through readings, screenings and essays, the seminar is designed to underscore the idea that "regardless of whether one is religious or not one is surrounded meanings and symbols coming from religion that permeate our culture, including film," Krummel says, "and negotiating with these religious implications may help us to better understand ourselves and the world around us."
Discovering what the act of stand-up comedy says about the human experience.
Meanwhile, in "The Lens of Stand-Up Comedy," students explore how comedians present and leverage their own experiences in ways that make other people laugh and what the act of stand-up says about the human experience.
"Stand-up comics tackle many issues and topics, including racism, social class, gender, gender stereotypes, sexual orientation, personal lives and others," says Professor of Education Jamie MaKinster. "As a result, students find the topics to be engaging, and sometimes fascinating, in terms of how comedians approach specific issues or questions."
In reading and analyzing different types of writing, including first person narratives written by comics and historical essays, students examine how and why comedians explore issues such as social class, racism, sexual orientation, gender, gender identity, cultural reproduction, and the very nature of human existence.
Exploring some of the fundamental divisions in American society through country music.
In courses like "Country Music and American Society," students explored not only the art itself but the social and cultural context it evolved from and exists in.
Ron Gerrard, the Colleges' Institutional Research Officer, who teaches the seminar, says the genre "relates to some of the most fundamental divisions in American Society: between North and South, urban and rural, black and white, rich and poor."
"It sometimes presents a romanticized view of rural America, treating it as a bastion of traditional virtue, close-knit communities and a simple carefree lifestyle. On the other hand, country music also sometimes is seen (by its critics particularly) as an ignorant backwards manifestation of 'hillbilly' and 'redneck' culture."
Will Lewis '23, who was excited to learn how one of his favorite genres reflects American culture, says musical sensibilities in the class runs the gamut. "There are some who love country, some who are ambivalent, and some who despise it. This has led to a wide range of opinions and interesting discussions," he says.
For Hannah Koppmann '23, who "did not consider myself a fan of country music," the "American Society" phrase of the seminar's title was what drew her to the course, and the opportunity to learn about "the values that others hold, the challenges that they face, or the daily life that they experience" in parts of U.S. society that are oversimplified or overlooked.
Learn more about other First-Year Seminars that explore art — including "Britpop: From Beatles to Brexit" and "Rock Music and American Masculinities" — as well as dozens of others with a range of themes.