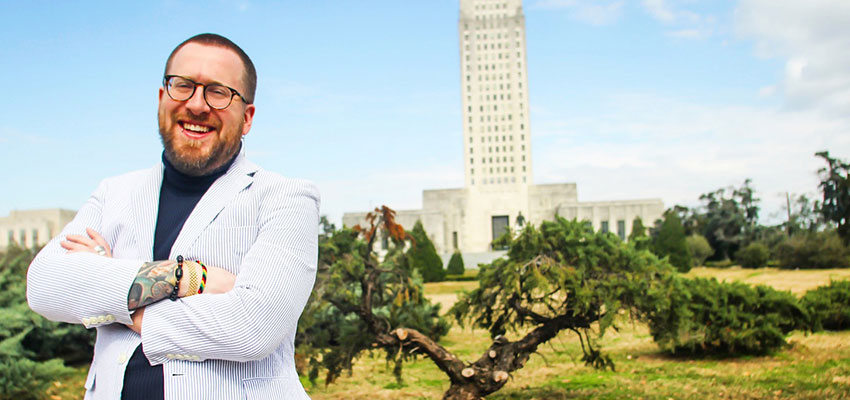 HWS News
30 January 2020 • Alums Csaposs '09 Takes on New Role in Nairobi
Brendan Csaposs '09 is no stranger to packing his bags and heading out to try something new. After earning his degree in music and lesbian, gay and bisexual studies, he's held a variety of teaching and educational administration positions in places he'd never been to before, including Baton Rouge, La., San Jose, Calif., and McAllen, Texas. So when an opportunity arose to work in Nairobi, Kenya, Csaposs pulled out his suitcase and started packing.
In February, Csaposs takes on a new role as the Dean Development Lead for Nova Pioneer Education Group, a network of schools in Kenya and South Africa. In this position, he will work with assistant principals as they implement a new teaching and learning model.
The current Kenyan educational strategy focuses on traditional lectures, reading and written exams. "From an educational standpoint, we're trying to change the model from one that's teacher-centric to one that's student-centric," Csaposs says. "We're focusing on student-driven, inquiry- and project-based learning, encouraging the students' critical thinking and exploration."
As a new model of teaching, he realizes training and coaching are critical to its success. "My goal is to help the instructional leaders get better at coaching their teachers so that everyone can get better," says Csaposs, who will spend 3-4 days a week working in schools.
He credits his time at Hobart and William Smith — and in particular his lesbian, gay and bisexual studies — with helping him find his way. It also led to his current work toward a doctorate from the University of Arkansas, where his dissertation focuses on the impact of LGBT students taking LGBT coursework and how that influences their ability to more successfully navigate their higher education and, ultimately, the world.
"What I studied at HWS allowed me to chart my path forward in whatever way I wanted to, because it helped me to understand who I am," Csaposs says. "And because of that I end up doing unexpected things like moving to East Africa."