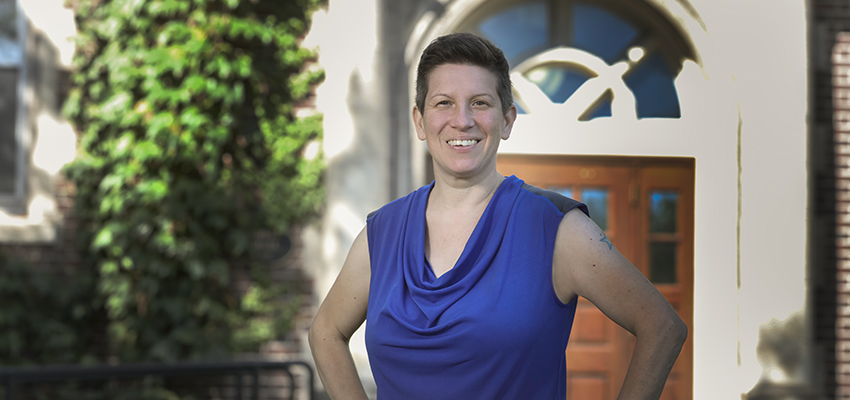 HWS News
27 August 2020 • Faculty Martin-Baron Edits Book on Queer Motherhood
With her first book, Visiting Instructor of Writing and Rhetoric Sherri Martin-Baron and her coeditors explore the complex, multifaceted, and legally and culturally variable realities of queer parenthood.
In Whats in a Name? Perspectives from NonBiological and NonGestational Queer Mothers, published this month by Demeter Press,Martin-Baron, Raechel Johns and Emily Regan Wills (formerly a Visiting Assistant Professor at HWS), gather 15 essays unpacking key moments in the journeys of queer parents.
Even before my first child was born, I searched for information and stories to learn what my experience as a nonbiological and nongestational queer mom might be like. This research showed me just how few resources there are out there, either academic or otherwise, for parents like me, says Martin-Baron. Resources can be found within individual blogs, Facebook groups, a small study, and one outdated book, but thats about it. One night, inspired, I decided to make a community resource of my own, an edited collection of personal narratives. Demeter Press, a Canadian feminist press which publishes on motherhood and family, was immediately interested when I reached out. In this edited collection, a community of queer mothers/parents share stories and perspectives of our parenting beyond biology and critically analyze some of the legal, social, and structural forces at play in our journeys. I am honored to be among these voices.
As the editors explain, the book begins with an examination of the routes we took to parenting, with many of us specifically focusing on the experience of being theother mother while our partners were pregnant, and the particular fears, anxieties and triumphs that come with it. Second, we locate ourselvesin the thick of it as parents, where the experiences shared among parents are colored by our particular experiences as nonbiological/nongestational mothers/parents. Finally, we reflect on our identities, including the identity ofmother, and how those grow, shift and develop throughout our parenting journeys.
Martin-Baron has been an educator for 14 years and a member of the HWS faculty since 2014, teaching multilingual writers seminars in the Writing and Rhetoric Program. She has also taught in the HWS Education Program and collaborated with the HWS Center for Teaching and Learning, the Center for Community Engagement and Service Learning and local schools. She also teaches English to Speakers of Other Languages (ESOL) at Monroe Community College in Rochester, N.Y., and has previously taught at Syracuse University, Oberlin College and American Universities Alumni in Nonthaburi, Thailand, among other institutions.
She holds a B.A. from the University of Massachusetts Amherst, a TESOL certification from Transworld Schools in San Francisco, Calif., and Masters in English concentrating in TESOL, the terminal degree in the field, from San Francisco State University.
With her partner, Associate Professor of Womens Studies Michelle Martin-Baron, Sherri has three children, who inspired Whats in a Name? The chapter she authored, Love is All You Need, is based on her relationship with her oldest daughter, who loves hearing Beatles songs as lullabies.