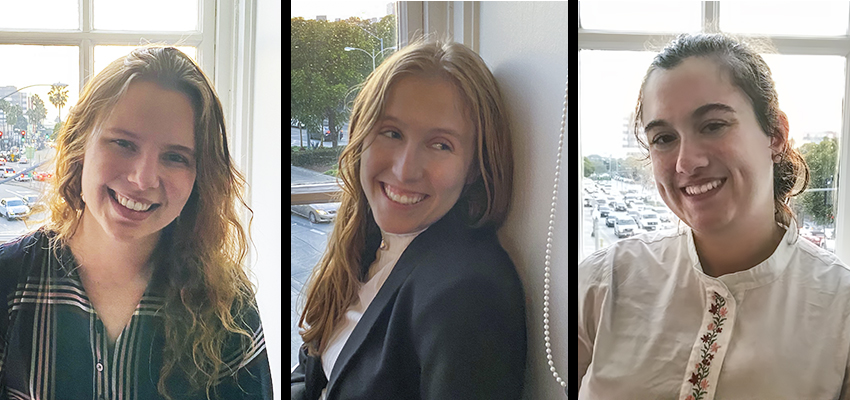 HWS News
26 August 2020 • Alums • Entrepreneurship Alumnae Launch Women in the Real
Hannah Bini '20, Chloe Emler '20 and Addison Gilbard '20 want to change the way women are portrayed in the media — and they want women to contribute to how that change happens. To get the conversation started, they've launched the "Women in the Real" project through their company, Exit 42 Media.
"We're passionate about making a more realistic portrayal of women in the media," says Bini, who majored in history. "We want to have a conversation about what we're missing."
Bini, Emler and Gilbard began by conducting interviews with women in Geneva and in surrounding areas, but the coronavirus pandemic put a stop to in-person discussions. They've since turned to the virtual world, soliciting video submissions through their website and social media.
The goal of the submissions is to illustrate the disparities between the narrow range of women shown in media with the diversity of women in real life. "A lot of people talk about the lack of representation of women, of body size, of skin tones," explains Emler, who majored in psychology and media and society. "They want that representation in their media and they don't know where to turn to find it."
Those responses have been encouraging for how well they fit with the goals of Exit 42 Media. Named after the Geneva exit on the New York State Thruway, the company was conceived during the Summer Sandbox Idea Accelerator in 2019 and further refined through participation in The Pitch in 2020.
Gilbard, who majored in media and society, shares that when they first created the company "we didn't have a focus on representation." As Exit 42 Media has evolved, they concluded that representation of women in media — and eventually other underrepresented groups — would be a focus of their work. "We've got to be the change, to make that happen," Gilbard says.
The company aims to create multimedia content, such as a comic book, podcast, video series, book or virtual reality story, with an emphasis on equitable gender representation. When a project picks up an established following and proof of sales, the company will then develop a script that will be sold to streaming media platforms. Bini, Emler and Gilbard plan to use the results of "Women in the Real" to develop some of that content.
Exit 42 Media is already on its way to making change — this summer, the company earned an honorable mention in the Draper Competition for Collegiate Women Entrepreneurs. The contest provides access to entrepreneurship opportunities, capital and networks. "We were honored to be selected and to be surrounded by so many impressive female founders," says Emler, noting that they plan to use the funding they were awarded to apply to screenwriting contests.
To contribute to the "Women in the Real" project, visit exit42media.co/projects/women-in-the-real.
Left to right in the image above: Chloe Emler '20, Addison Gilbard '20, Hannah Bini '20.