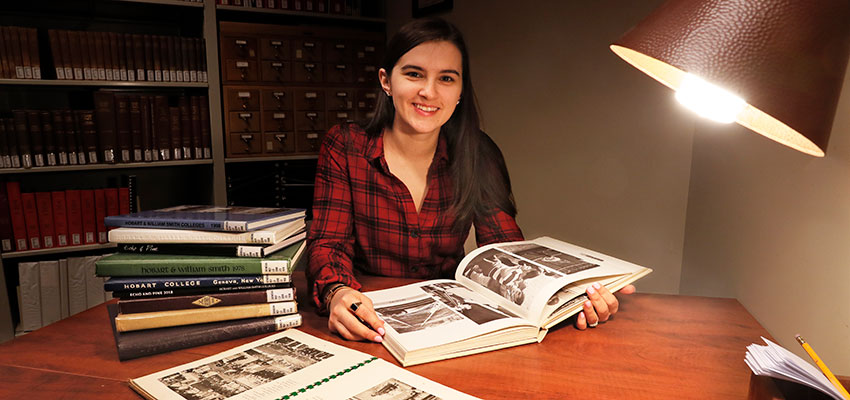 HWS News
22 November 2019

Steinfeldt '20 Wins State Sociological Competition

National surveys of what employers are looking for in recent college graduates reinforce how crucial it is that undergraduates develop excellent communication and research skills, says Professor of Sociology Renee Monson. For sociology students, the "Pro Present" course taught by Monson helps students hone these skills as they prepare for presentations at regional and state-level conferences.

Meredith Steinfeldt '20 is one student who significantly benefited from the class. She presented "Whose College Is This? Shifting Depictions of Men and Women in Yearbooks (1938-2018)," winning the undergraduate student paper competition at the New York State Sociological Association (NYSSA) annual meeting this month. Steinfeldt has been working on the topic under Monson's guidance for nearly a year.

The project builds on an assignment Steinfeldt began with a group of students in "Research Methods" in spring 2019. "[Meredith] is exploring how the photos in the Echo and Pine yearbooks reveal shifting depictions of our coordinate colleges over time as the organizational structure of Hobart College and William Smith College gradually became more integrated by gender," says Monson.

"My goal was to see how independent variables impacted the representations of Hobart College, William Smith College, and the Colleges as a coordinate in the yearbooks, along with how these representations were depicted in the yearbook on student's bodies through the apparel that they chose to wear," says Steinfeldt.

Presenting at the NYSSA conference allowed her to refine her public speaking skills and gave her the opportunity to observe other undergraduate, graduate and professional presentations, says Steinfeldt. In preparation, she rehearsed her presentation with alums who have presented at NYSSA in the past as well as her sociology professors.

Monson says the upper-level course aids students as they transition into the professional world. "It is a thrill to guide students as they move from being consumers of published social science research to becoming producers of new social scientific knowledge," she says. "They are learning to participate in the discipline's current debates and conversations, rather than merely listen in on them."

The photo above features Meredith Steinfeldt '20 in the archives of the Warren Hunting Smith Library.