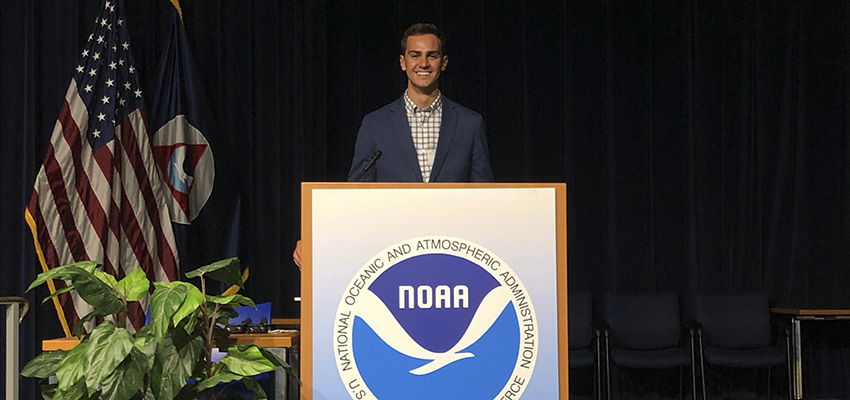 HWS News
13 August 2019 • STEM Polentes '21 Named NOAA Hollings Scholar
Jack Polentes '21 has been awarded the prestigious Ernest F. Hollings Undergraduate Scholarship, giving the geoscience major a paid 10-week internship with researchers at the National Oceanic and Atmospheric Administration (NOAA). Polentes will also receive up to $9,500 per year of financial assistance for the next two years and the opportunity to present his findings at two conferences of his choice, with all expenses paid.The highly competitive Hollings program offers undergraduate training in oceanic and atmospheric science, research, technology, outreach and education. Polentes joins several HWS geoscience majors who have earned the award, including Lukas Ruddy '18, Brooke Adams '16 and Macy Howarth '16.
Recently returned from an orientation session at NOAA's headquarters in Washington, D.C., Polentes looks forward to making significant connections to professionals in his field. "I had the opportunity to meet with a number of high-ranking scientists at NOAA as well as the 100+ other scholarship winners," he says. "It was a great chance to network and learn more about the organization."
Polentes will choose his internship placement this fall from a NOAA listing of roughly 300 study sites. His research area is hydrogeology, with a focus on coral and ocean acidification. "The study of coral blends geoscience with biology, and it is especially relevant now because of how important it is in protecting our shoreline and how quickly it's dying from pollution and the acidifying of the oceans," he says. Next spring, Polentes will participate in an abroad experience in Australia, where he will study the coral of the Great Barrier Reef.
Associate Professor of Geoscience Tara Curtin says the Hollings Scholarship is one of the top awards in the country for a student interested in a career in the geosciences. "To win such a competitive award is a real testament to Jack's hard work, passion for learning and initiative," she says. "He will be able to work alongside oceanographers in the field and lab, getting some great hands-on experience."
Polentes, who has minors in German, biology and environmental studies, is working this summer as a research assistant to Curtin, who is his adviser. He credits her assistance with helping him earn the scholarship. "I received this award because of the help and attention I've received at HWS," he says. "I thrive in a small classroom environment, and Professor Curtin and my other professors have been instrumental in my success."