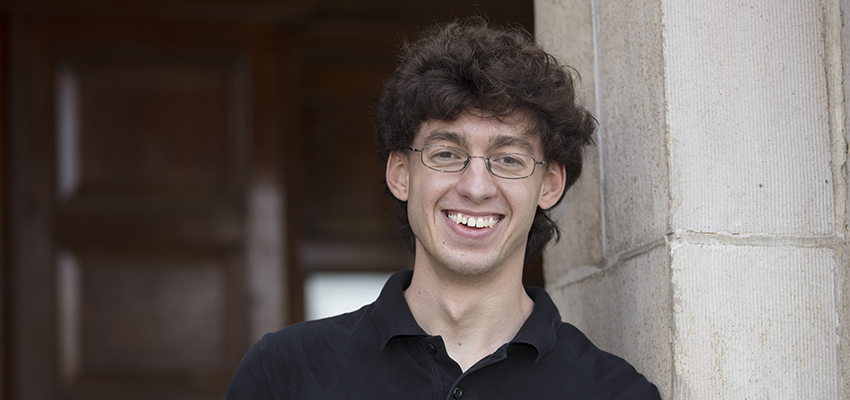 HWS News
6 December 2018 • Alums • Arts Jennings '19 Showcases No Exit
Austin Jennings '19 concludes a component of his Honors project with a performance of No Exit in collaboration with the student-led theater group, the Phoenix Players at 2 p.m. on Sunday, Dec. 9 in Williams 200.
Under the guidance of his adviser Associate Professor of Theatre Heather May, the theatre major and European Studies minor is working on a project that encompasses a three-part study about directing. He is directing a play, writing a research paper about a professional director, and writing a reflection paper on his research and experience directing.
The play, No Exit, written by French philosopher Jean-Paul Sartre depicts two women and a man who are locked-up together inside a room in Hell for eternity. Jennings chose the play that first premiered in 1944 because of his familiarity with Sartre's work. In high school, he originally viewed No Exit at a festival, inspiring him to direct his own rendition. He classifies the play with a "Twilight zone vibe" which contains creepy overtones of eeriness and suspense.
"Sartre is first and foremost a philosopher, not a playwright; and his play is based on his own philosophy," Jennings explains.
May periodically has attended rehearsals to observe Jennings' directing style and offer critique and comment on his technique and approach. Jennings refers to the production as a hands-on experience consisting of significant logistics work with the student production troupe.
"You can prepare for everything you do in rehearsal, but whatever happens in that rehearsal space, it's still a living creature," Jennings says.
Reflecting on the project, he notes how extensive the experience was compared to what he initially anticipated, and cites the 3-month process he underwent to gain the rights for the play from the French Society of Dramatic Authors and Composers.
No Exit stars Eva Catanzariti '20, Israel Oyedapo '20, Tayah Payne '22 and Troy Tedeschi '22.
On campus, Jennings has held numerous acting roles in HWS productions including Love/Sick, Macbeth, She Kills Monsters and Duchess, and served as assistant stage manager for The Etymology of Bird and Boeing Boeing.
Through this directing experience, Jennings believes he is more confident in his abilities on and off the stage.
"When I watch the show on Sunday, I just have to watch and enjoy it," Jennings says. "Right now, I'm thinking more about putting on a good show."
Last summer, Jennings researched the history of Geneva's Smith Opera House with Margaret "Gretty" Hollister '20 and Associate Professor of Theatre Chris Woodworth.