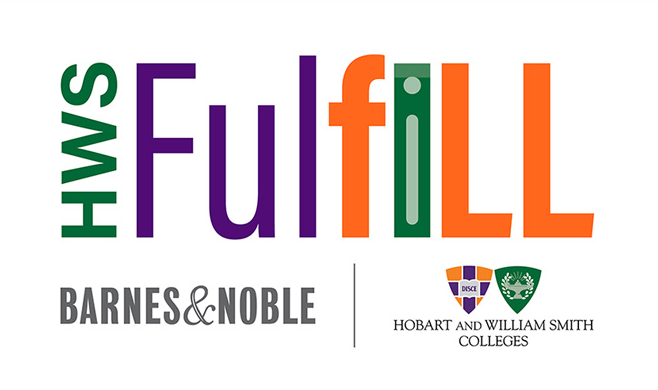 HWS Fulfill
HWS Fulfill is our new all-encompassing, affordable textbook rental program that will provide undergraduate students with all required textbooks, lab manuals, access codes and electronic book versions before the first day of class! Barnes & Noble College is pleased to be able to offer HWS students a low price point of $56.25 per course. A student taking the standard 4 courses will spend $225 for all their required materials.
HOW IT WORKS
Register for your courses
Upon registering for courses, undergraduate students will be automatically enrolled into the program. Once you've successfully selected your courses, the bookstore will start preparing your order.
Verify your order
Starting 30 days before the first day of classes, you will receive an order verification link to your university email to verify your order and select your delivery preference.
Receive your books
An email notification will be sent when your order is ready for pickup or when it ships. Your digital materials will be delivered for your course(s) within Canvas.
FREQUENTLY ASKED QUESTIONS
Q: What is HWS Fulfill?
A: HWS Fulfill is a coordinated, equitable, institution-wide response to the increasing number of students who lack required textbooks/codes. A personalized order of course materials containing the required textbooks/codes adopted by their faculty will be made available to each enrolled student prior to the first day of classes.
Q: Why is HWS Fulfill needed?
A: Barnes & Noble College Bookstore data demonstrates that 40% of students did not have their course materials on the first day of class and that nationally an increasing number of college students attempt to succeed in courses without buying textbooks.
Q: Will HWS Fulfill be more expensive for students who already are struggling to pay for college?
A: No. This approach allows Barnes & Noble to purchase materials for all courses in bulk, thereby significantly reducing prices to students. Through HWS Fulfill, students will be billed a flat rate of $56.25 per course via their student account for required textbooks/codes.
Q: When will these charges show on the students account?
A: They will show on the midterm bills.
Q: What if a student finds their required books for less money elsewhere?
A: Students will have a limited time period (one day after drop/add period ends) in which to opt out of HWS Fulfill and obtain their materials elsewhere. In addition, if a student opts out and then changes their mind, they are able to opt back in within the same time frame. The materials will be available in the bookstore for those who opt out; students opting out will not receive the savings that HWS Fulfill provides.
Q: How does a student opt out?
A: Opting out of can be done in PeopleSoft under Self Service. The Opt Out process must be completed each semester (Fall and Spring), not just at the beginning of the academic year.
Q: How does a student opt back in to HWS Fulfill if they previously opted out?
A: Students can opt back in via their PeopleSoft accounts.
Q: If a student opts out, can they still purchase or rent books from the College Store?
A: Yes. This can be done on the College Store website under the Opt Out term.
Q: What happens if a student drops a class?
A: The student may return the book to the Bookstore on the same terms and timelines currently in place. If the student drops a class and enrolls in a different class, the bookstore will "swap" the required textbooks/codes so that the student has what they need.
Q: How will this program work for students who enroll immediately before (or after) classes begin?
A: Barnes & Noble has a supply chain and fulfillment plan in place that should allow students to receive their books within 48 hours of registration.
Q: What if a student is taking a half credit course? What will the cost be to the student?
A: The cost for a full course will be $56.25. A half course will cost $28.13.
Q: Will students be able to keep the books once the course is over?
A: Book orders will be fulfilled at the discretion of the Bookstore with a combination of new, used, rental, and digital products based on each student's individual course selection. Rental products must be returned at the end of the semester consistent with current policies and procedures and will be recirculated in future years that the same materials are used. Students will have the opportunity to "buy out" any rental textbooks at the end of each semester for an additional fee.
Q: What happens if a student does not return their rentals at the end of the semester?
A: Students receive multiple rental return reminders before the due date. Any students that do not return their rentals at the end of the semester will be responsible to pay the bookstore directly for the associated replacement fee of the materials. The Bookstore's current textbook rental program requires a credit card to secure rentals in case the book is not returned. With the HWS Fulfill program, students no longer need a credit card.
Q: If the cost is set does that mean faculty do not have to think about the cost of the books that are being assigned?
A: It is always a good idea to be thinking about the cost of the books faculty use. The cost to the students is based on what HWS has used in past semesters, so faculty suddenly choosing much more expensive course materials could result in a different cost in subsequent years. What makes HWS Fulfill an affordable program is having adoptions in by the deadline.
Q: How long are the quoted prices good for?
A: The quoted prices will be in place for the fall and spring semesters of the 2022-2023 academic year. Pricing will be revisited for the 2023-2024 academic year based on the actual performance of the program.
Q: How does a student pay for HWS Fulfill?
A: HWS Fulfill is automatically billed to the student's account.