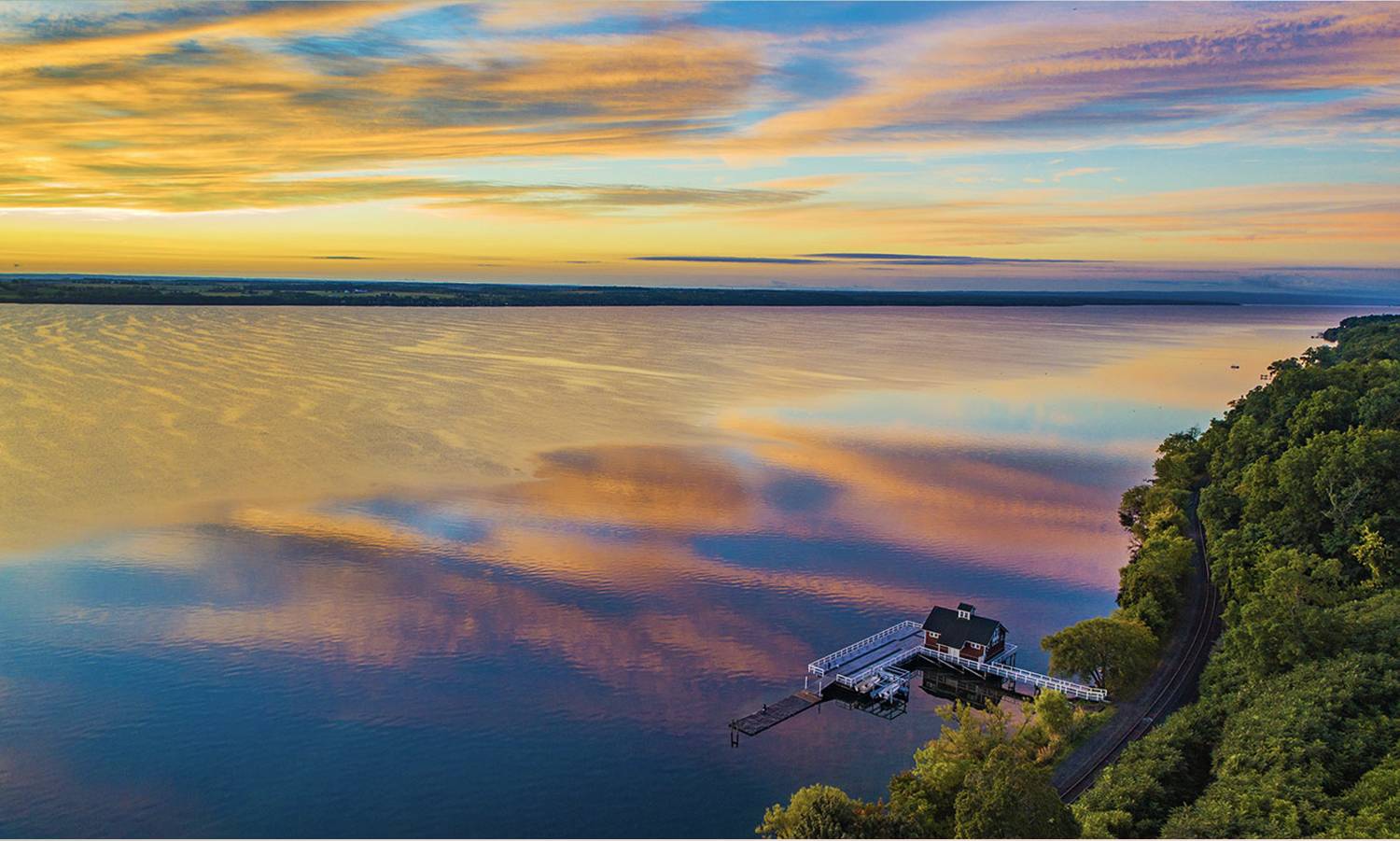 Meghan Brown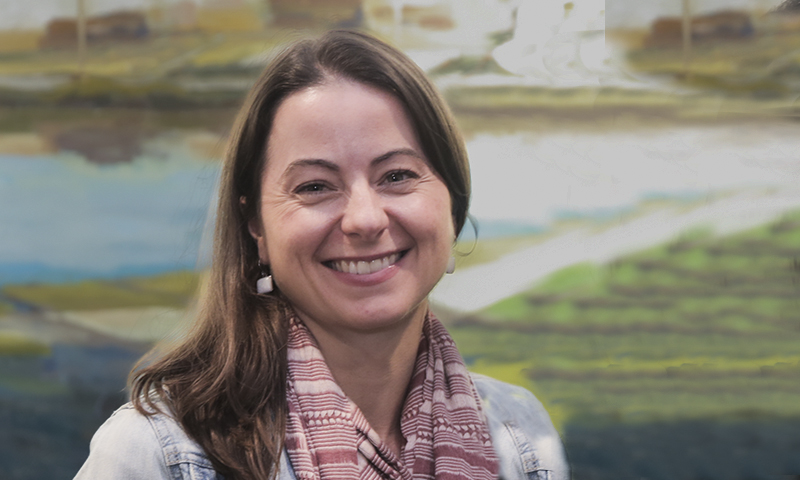 Meghan E Brown
Professor of Biology
Joined faculty in 2006
Ph.D., University of Minnesota
M.S., University of Minnesota
B.S., University of Michigan
Contact Information
Scholarly Interest
Aquatic Ecology
Invasion Biology
Paleolimnology
Invertebrate Dormancy
Research
I am an ecologist who studies the fantastic Earth and the critical role humans play in shaping our familiar home. I focus on understanding how organisms establish within ecosystems and the interactions among species in these communities (mainly natural lakes and human-made reservoirs and canals).
Lakes are islands in a terrestrial landscape, which affords relative isolation and a wealth of ecological theory to understand the impact of environmental changes such as the arrival of non-native species, extirpation of others, and the accumulation of pollutants in the food web. Lakes can be studied in real-time or by the study of accumulated sediments over the lifetime of the lake – I use both of these field methods and mathematical models to capture ecological information. Big questions I am currently investigating include (1) how the establishment of non-native species is influenced by and changes the recipient environment and (2) how lakes change over time in response to multiple environmental stressors.
Some of the model species I use to address these questions are North American non-native species such as the spiny waterflea (Bythotrephes), fishhook waterflea (Cercopagis), and the bloody red shrimp (Hemimysis). Although the establishment of these species negatively impacts our lakes, their arrival provides a lens to view biological processes, such as establishment, species interactions, and evolution, which are otherwise difficult to elucidate. Some of my most recent research explores the role of dormancy in species dispersal and persistence. My study systems include the Finger Lakes, Lake Superior, Lago Maggiore (Italy), and islands in the West Indies.
Courses Taught
At Hobart and William Smith
Biological Statistics (BIOL 212)
Ecology (BIOL 225)
Aquatic Biology (BIOL 238)
Invasion Ecology (BIOL 325)
Suspended Animation: how & why organisms put life on hold (BIOL 460)
Study Abroad
Urban Ecology of Rome (BIOL 170)
The Art & Science of Graphical Representations (BIDS 203)
Ecology & Culture in Guatemala (RCOL 126, GUAT 210)
Sustainability Down Under (AUS 236)
Biogeography of Australia and New Zealand (AUS 235)
Modern Siberia (RCOL 102, RUSE 200)
Publications
*undergraduate co-authors
Brown M., Buffington K., Cleckner L., and Razavi N. (2022) Elevated methylmercury concentration and trophic position of non-native Bloody Red Shrimp (Hemimysis anomala) increase biomagnification risk in nearshore food webs Journal of Great Lakes Research (in press)
​Brown M., Oviedo Prieto R., Corbin J., Ness J., Borroto‐Páez R., McCay R., & Farnsworth M. (2021) Plant pirates of the Caribbean: is Cuba sheltered by its revolutionary economy? Frontiers in Ecology and the Environment 19(4): 208-215
Ashdown B., Brown M., Lui M., Nichols h., and Urquiza I. (2021) Indigenous community members' views about water quality in Lake Atitlán, Guatemala Local Environment https://doi.org/10.1080/13549839.2021.2001447
Boscarino B., Oyagi S*., Stapylton E*., McKeon K*., Michels N.*, Cushman S., & Brown M. (2020) The influence of light, substrate, and fish on the habitat preferences of the invasive bloody red shrimp, Hemimysis anomala. Journal of Great Lakes Research 46(2): 311-322
Nevalainen L., Brown M., & Manca M. (2018) Sedimentary record of cladoceran functionality under eutrophication and reoligotrophication in Lake Maggiore, northern Italy. Water 10(1), 86
Brown M., Roth J.*, Smith B., & Boscarino B. (2017) The light at the end of the funnel?: Using light-based traps for the detection and collection of a nearshore aquatic, invasive invertebrate, Hemimysis anomala. Journal of Great Lakes Research 43(4): 717-727
Branstrator D., Beranek A., Brown M., Hembre L., & Engstrom D. (2017) Colonization dynamics of the invasive predatory cladoceran, Bythotrephes longimanus, inferred from sediment records. Limnology and Oceanography 62 (3) 1096-1110
Brown M., Boscarino B., Roellke J.*, Stapylton E.*, & Driller-Colangelo A.* (2014) Fifteen miles on the Erie Canal: the spread of Hemimysis anomala G.O. Sars, 1907 (bloody red shrimp) in the New York State canal system. BioInvasion Records 3(4): 261-267
Branstrator D., Shannon L., Brown M., & Kitson M. (2013) Effects of chemical and physical conditions on hatching success of Bythotrephes longimanus resting eggs. Limnology and Oceanography 58(6): 2171–2184
Brown M., Curtin T., Gallagher C.*, & Halfman J. (2012) Historic nutrient loading and recent species invasions caused shifts in water quality and zooplankton demography in two Finger Lakes (New York, USA). Journal of Paleolimnology 48(3): 623-639
Brown M., Morse R., & O'Neill K.* (2012) Spatial, seasonal, and diel distribution patterns of Hemimysis anomala in New York State's Finger Lakes. Journal of Great Lakes Research 38: 19-24
Brown M., Branstrator D., & Shannon L. (2012) Population regulation of the spiny water flea (Bythotrephes longimanus) in a reservoir: Implications for invasion. Limnology and Oceanography 57(1): 251-271
Brown M. & Branstrator D. (2011) Patterns in the abundance, phenology, and hatching of the resting egg stage of the invasive zooplankter Bythotrephes longimanus: implications for establishment. Biological Invasions 13: 2547-2559
Brown M. (2009) Environmental factors influencing invasibility and ecological consequences of invasions of the spiny waterflea. Verhandlungen Internationale Vereinigung für theoretische und angewandte Limnologie (International Association of Theoretical & Applied Limnology Proceedings) 30(8): 1301-1306
Brown M. (2008) Nature and nurture in dormancy: dissolved oxygen, pH and maternal investment impact Bythotrephes longimanus resting egg emergence and neonate condition. Canadian Journal of Fisheries and Aquatic Sciences 65(8): 1692-1704
Brown M. & Balk M.* (2008) The potential link between lake productivity and the invasive zooplankter Cercopagis pengoi in Owasco Lake (New York, USA). Aquatic Invasions 3(1): 28-34
Manca M., Portogallo M., & Brown M. (2007) Changes in phenology of the spiny water flea, Bythotrephes longimanus and its success in Lake Maggiore, Italy as a result of changes in climate and trophy. Journal of Plankton Research 29(6): 515-525
Branstrator D., Brown M., Shannon L., Alexander M.*, & Heimgartner K.* (2006) Range expansion of Bythotrephes longimanus in North America: evaluating habitat characteristics in the spread of an exotic zooplankter. Biological Invasions 8: 1367-1379
Brown M. & Branstrator D. (2005) Seasonal dynamics in Bythotrephes diapausing egg emergence and production, and the role of dormancy in range expansion. Verhandlungen Internationale Vereinigung für theoretische und angewandte Limnologie (International Association of Theoretical & Applied Limnology Proceedings) 29(1): 1-6
Brown M. & Branstrator D. (2004) A 2001 survey of crustacean zooplankton in the western arm of Lake Superior. Journal of Great Lakes Research 30(1): 1-8
Hoffman J. *, Smith M.*, & Lehman J. (2000) Perch or plankton; top down control of Daphnia by Yellow perch (Perca flavescens) or Bythotrephes cederstroemi in an inland lake? Freshwater Biology 46: 759-775
PROFESSIONAL AFFILIATIONS
Ecological Society of America
Association for the Sciences of Limnology and Oceanography
International Association of Great Lakes Research
International Association of Theoretical and Applied Limnology
SERVICE PROJECTS
Fischer Center for the Study of Gender and Justice, Hobart and William Smith Colleges (2017 - 18); Pirates of the Caribbean: invaders and the sheltering of Cuba due to the US economic embargo

Great Lakes Protection Fund,NYS Department of Environmental Conservation (2014 - 2016); Non-native bloody red shrimp in the Great Lakes Basin: Developing novel methods for early-detection and quantifying interaction with fish in New York State; PI with collaborators B. Boscarino (Poughkeepsie Day School) & B. Smith (Ithaca College)
New York Six Liberal Arts Consortium, Mellon Foundation (2015 - 2017); Upstate and Global Impacts of Invasive Species, Upstate to Global Collective; Co-PI with J. Corbin (Union College), T. McCay (Colgate University), & J. Ness (Skidmore College)
New York Six Liberal Arts Consortium, Mellon Foundation (2015 - 2016); Indigeneity, Sustainability, and Human Rights in Guatemala, Upstate to Global Collective; Mentor with Co-PIs B. Ashdown (H&WS) & D. McLane (St. Lawrence College)
US Fish and Wildlife Service\'a0Great, Lakes Restoration Initiative - Aquatic Nuisance Species (2013, 2011); Contributing scientists within the Finger Lakes Institute
Hatch Land Grant (2009 -2012); Ecological controls of lake-water clarity at the south end of Cayuga Lake; Collaborator with PI N. Hairston (Cornell University) et al
Fulbright Research Scholar, US Department of State (2010); Home is where the Spiny waterflea is: resting egg longevity and viability in Lago Maggiore (Italy)
Great Lakes National Protection Fund (2008 - 2010); Managing invasive European Frogbit through research and educational outreach; Co-PI with B. Zhu (Hartford University) and L. Rudstrum (Cornell University)
National Science Foundation Major Research Instrumentation Program (2008 - 2010); Acquisition of an instrument network to investigate zooplankton dormancy; PI with T. Curtin, N. Laird, and S. Bridgeman (all H&WS)
Fulbright-Hays Group Study Abroad Program, US Department of Education (2009); Modern Siberia: ecology and culture; Co-Director with K. Welsh and J. Anderson (all H&WS)
State of New York (2006 - 2008); A preliminary water quality study of Owasco Lake (NY) and its watershed; Collaborator with J. Halfman (lead researcher) et al