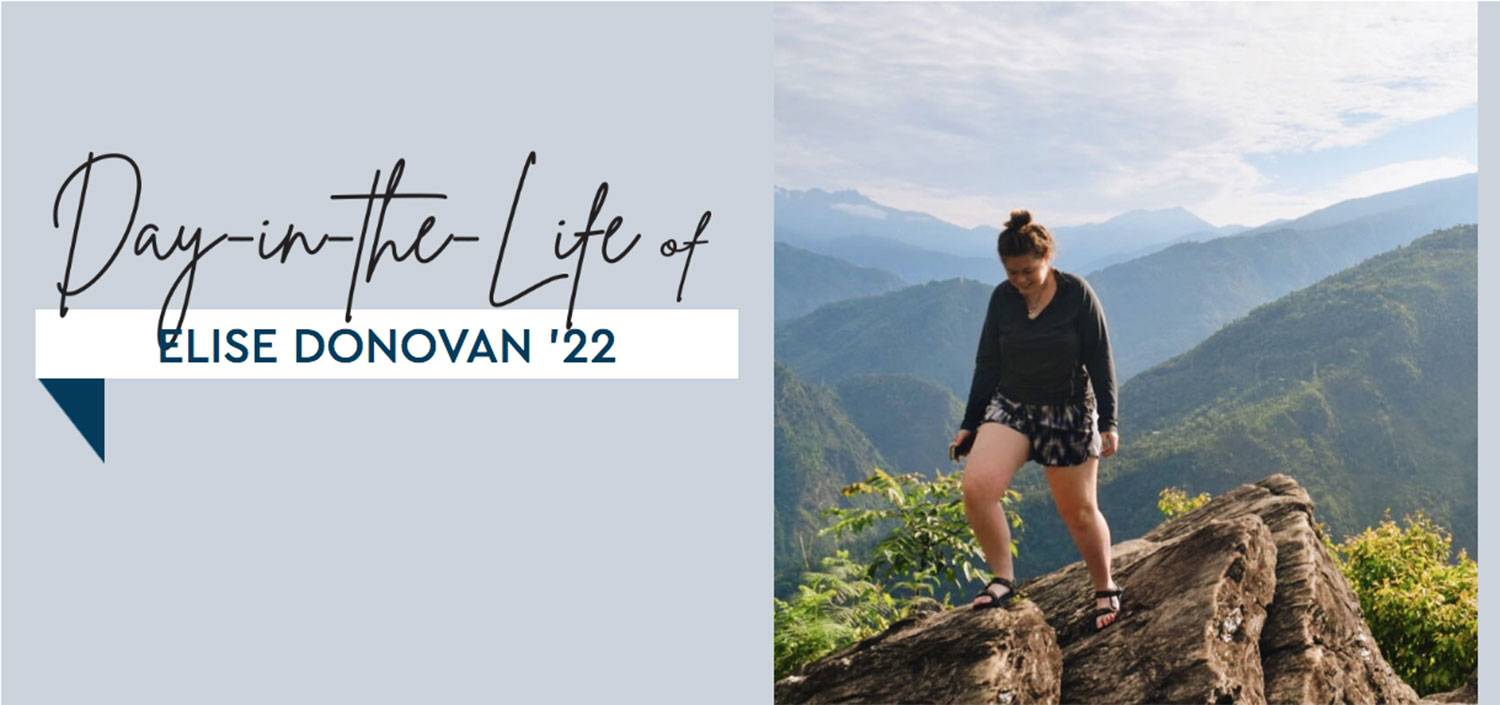 Elise Donovan '22
Hello! My name is Elise Donovan and I am from Exeter, N.H. I majored in International Relations with a minor in Environmental Studies. On campus I was a member of the debate team and a staff writer for the student newspaper The Herald. I was a member on the Committee on Standards, and played both club and intramural soccer.
DURING THE SUMMER OF 2019, I COMPLETED A SHORT-TERM SUMMER STUDY ABROAD PROGRAM WITH EIGHT OF MY PEERS IN INDIA. THE PROGRAM WAS LED BY ASSOCIATE PROFESSOR OF POLITICAL SCIENCE VIKASH YADAV WHO TAUGHT A COURSE ON THE INTERSECTION OF ENVIRONMENTAL, LABOR AND IDENTITY POLITICS CONTAINED WITHIN THE STATE OF SIKKIM. ALTHOUGH EVERY DAY WAS DIFFERENT, AS WE TRAVELED TO DIFFERENT PARTS OF THE COUNTRY, I WANT TO SHARE A SNAPSHOT OF A DAY OUR GROUP SPENT AT THE YANGSUM HERITAGE FARM IN RINCHENPONG, WEST SIKKIM, INDIA.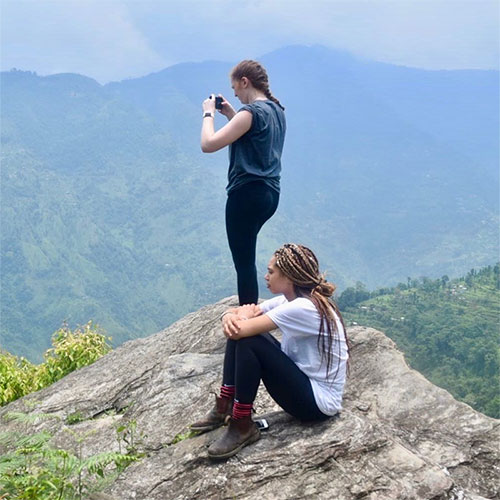 6:20 a.m.
Wake up! At this point in the year, Mount Kangchenjunga is most visible early in the morning, so the other students on the trip and I get up and go on a short hike to a lookout spot to get the best view and pictures, and then return to bed.
8:30 a.m.
Wake up for real and make our way to the dining room where Mr. Thendup Tashi, the owner of the farm, would provide Masala chai tea and other breakfast essentials to our group to help start the day right.
9 a.m.
Before starting our daily activities, students would often spend mornings reading for class, playing soccer with local kids who spent time on the farm, washing and hanging our clothes or journaling.
10:30 a.m.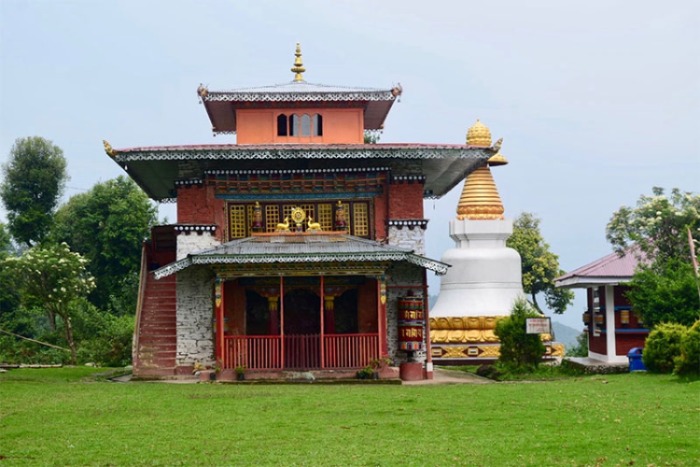 Embark on a hike to visit the Rinchenpong monastery, the 3rd oldest Buddhist monastery in Sikkim.
1 p.m.
After several hours of hiking through mountains and fields, we eat lunch in town. Lunch consists of typical Northeast Indian staples like paneer, rice with dal, paratha, and of course Masala chai.
2 p.m.
Once we return from our hike, we gather our books and computers and head to the dining room for class. We discuss the ecology, economics and equity of the pastoral systems (yaks!) in Yuksom, India, an upcoming destination.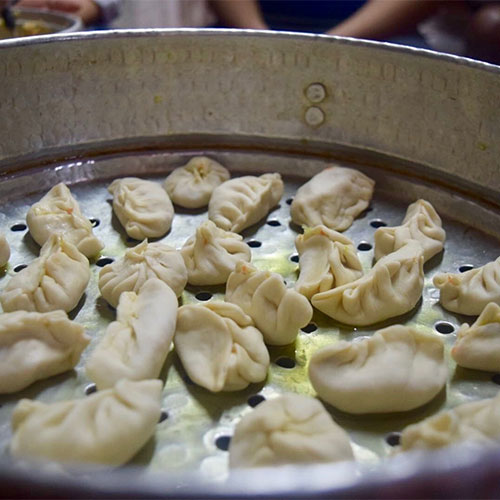 4 p.m.
After a short nap, we head to the kitchen to learn the art of momo making, another classic Sikkimese dish (much like dumplings), made from scratch with the farm chefs.
5 p.m.
While the momos cook, we venture to a local employment office to learn about the Mahatma Gandhi National Rural Employment Guarantee Act, a welfare work program for lower income Indian residents. We also get the opportunity to talk to a local facilitator of the program who explains the benefits of the program for individuals, as well as the economic implications for Sikkim.
7 p.m.
Sit down as a group for dinner and finally get to eat the momo we cooked, as well as drink (you guessed it) CHAI!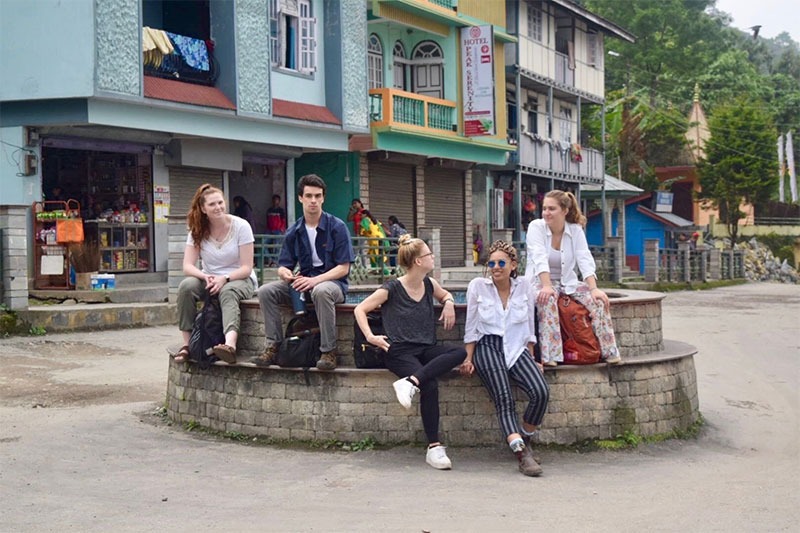 8:30 p.m.
Before heading to our rooms, Professor Yadav provides an itinerary for the next day. Tomorrow we will travel to Pelling, India.
9 p.m.
We play cards on the shared deck between all of our rooms until we are too tired to continue.
11:30 p.m.
Send a quick message to my parents as they wake up in New Hampshire, explaining how incredible of a day I had, and how excited I am for all the days to come.
Every day in India brought new adventures and encounters. Over the course of the program, we stayed in homestays, visited zoos and museums, shopped on MG road, attended local schools, and much more. This trip changed my life. I made enduring friendships with the other students and am grateful to Professor Yadav. I highly recommend short term programs, as the HWS abroad curriculum and opportunities are unmatched.
Best,
Elise