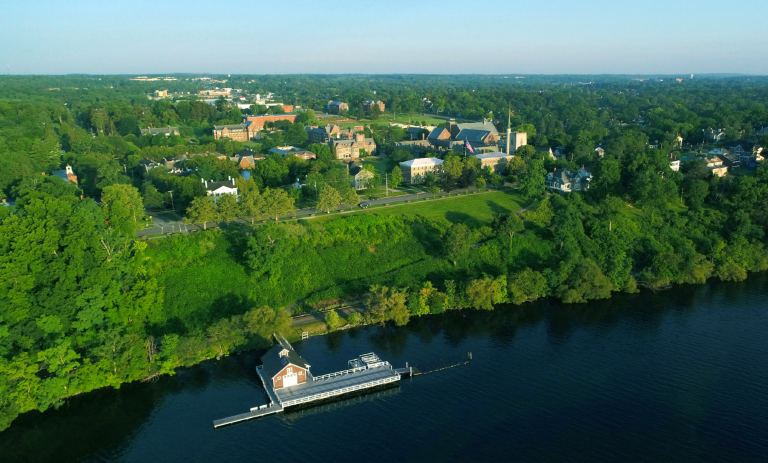 Recent Grads
Sarah Garrett '18
Current Position:
Security Education Administrator and Data Analyst, MIT Lincoln Laboratory
Current Location:
Lexington, Mass
.
When I first came to HWS, I had an idea of what I thought I wanted to do with my life and how I was going to get there. That idea included majoring in psychology and/or economics. I realized that was not the path for me and quickly became worried about the rest of my college career. Come spring semester in my first year, I found myself in "Intro to Sociology" with Associate Professor of Sociology Jim Sutton. I had no idea what to expect going into the class. For starters, I couldn't even tell you what sociology was – I assumed it was the same thing as psychology. If you don't know him, Professor Sutton specializes in criminology, which is something he always tried to incorporate into the curriculum. It was all over from there. I was hooked on criminology and wanted to do any kind of work related to the prison system I could get my hands on. I immediately asked Professor Sutton if he would be my adviser. As time went on, discussions of graduate school had come up.
With his help, after graduating from HWS I attended Northeastern University to pursue a master's degree in criminology and criminal justice. Northeastern has a well-known co-op program that lets students network with potential places of employment and spend six months working there. That is how I stumbled upon MIT Lincoln Laboratory. MIT Lincoln Laboratory is a Department of Defense federally funded research and development center whose primary mission is to create technology in support of national security. Once again I found myself completely out of my element in a new world I never knew existed: the world of industrial security. I spent six months with the lab, rotating through the Security Services Department's four functional areas: Government Security, Physical Security, Information Security and Special Programs. I enjoyed it so much I applied for a job within Special Programs, where I currently work as a special security representative in the Special Security Management Office. The team I work with provides support to the programs that are open at the lab. I work closely in assisting both the technical staff (engineers, scientists, etc.) and the security staff whose job it is to create and safeguard this classified information.
In short, I was one of the lucky ones to find employment immediately out of graduate school, and I owe all of my success so far to Professor Sutton. I have never had a professor who cared so much for the well-being and aspirations of a student like he did. He was instrumental in helping me get to where I wanted to go and wrote the most thoughtful recommendation letter I've ever read. Though I did not end up as a prison researcher like I thought I would, I am incredibly fortunate to be working where I am. I don't know where I will be five or 10 years from now, but I'm certainly enjoying the ride. I now have one year under my belt with the lab, with hopefully many more to come!