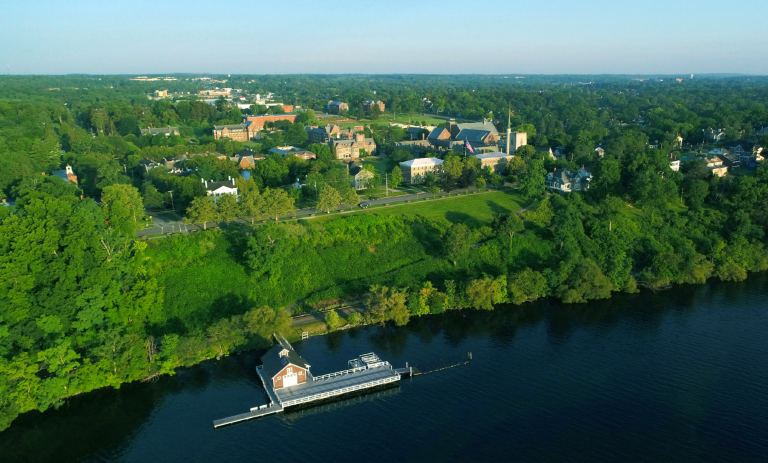 Recent Grads
Leslie Colunga '19

Current Position:
CMST Assistant Superintendent at Shawmut Design and Construction
Current Location:
La Puente, Calif.
Majors:
Architectural Studies
My plan coming into college was to get a degree in geoscience. However, during my first year I was placed in several art courses, which introduced me to studio art. This introduction allowed me to start developing an interest in all studio art courses and also gave me another entry opportunity into the architectural department. I decided to pursue architecture after meeting the professors and classmates.
I continued going to several events at Houghton House and even got to be a gallery assistant my third and final year. I also had the opportunity to declare my major during my second year, went abroad during my third year, and my final year I finished my major in architecture and double minor in art history and studio art. I'm thankful for the several mentors I had along the way such as professors Gabriella D'Angelo, Kirin Makker, Philia Yi, Ted Aub, Nick Ruth and Angelique Szymanek. Each professor had an impact on my career and each one of them taught me life lessons that would help me out with my future.
I previously worked with Shawmut as an estimating intern in both 2017 and 2018 in luxury retail and am now officially a full-time worker, since August 2019. Since then, I've started my journey with Shawmut under the CMST (Construction Management Skills Training) program. This program is allowing me to explore three different rotations in construction, which consist of one year in estimating, one year in project management and one year as a superintendent. I have officially completed one year in estimating and have now transitioned into assistant superintendent role at the SoFi Stadium in Inglewood. My passion in construction has been creating long-term relationships with subcontractors and the learning process of each department in construction.
I was able to get a head start by interning each summer at Shawmut, and each year they gave me the opportunity to shadow other departments, which allowed me to gain insight on what I could possibly do. I was also able to see the lives of coworkers who were once architects, interior designers, superintendents, just by having conversations with the people that joined Shawmut.
I went through several resources along the way including Career Services, Posse and the Architectural Studies Department. Career Services helped me back in 2017 when I was first applying to the internship, in 2018 when I was reapplying and in 2019 when I wanted to apply for a full-time position. They helped me with my resume and helped me get in contact with an HWS alum that worked for Shawmut at the time.
After my last rotation in Shawmut in 2021, I hope to have a clearer idea of what career I would like to pursue. Currently, due to my experience in estimating, I am leaning more toward this field. However, I have yet to experience the rest of my superintendent rotation and my project management rotation.