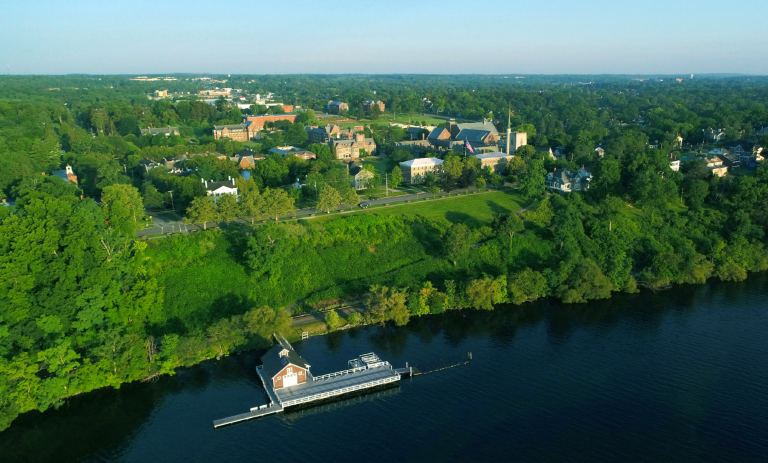 Recent Grads
Mac Benson '18
Current Position:
Associate Producer at ESPN
Current Location:
Bristol
, Conn.
Majors:
Writing and Rhetoric
My plans coming into college were like most others, nonexistent. I had next to no idea as to what I wanted to do. A few weeks into my first year I saw a poster that Pierre McGuire '83 was coming to campus to meet with students. I signed up immediately, if not to just pick his brain about hockey. I walked out of that meeting convinced I wanted to work in sports. Pierre was my first mentor in the industry and still is to this day.

Currently I am a content associate at ESPN. Prior to that, I was a production assistant in the Content Associate Program (CAP). Most everything I do is for Sports Center. Some nights I am working the teleprompter, organizing scripts and working with the talent. Other nights I'm cutting highlights, footage for voice over, or logging sound from any interviews that happened that day. Working for ESPN is a dream come true. When I was young, I would get up early before school just to watch Sports Center, and now I'm sitting on the set while writing this—it's surreal.
The path to where I am today was anything but easy. My first experience working in sports was in high school where I did play-by-play for my school's varsity teams. I covered everything from field hockey to swimming. In college I started writing a blog following the Buffalo Sabres and recruited a few other students to work on it. During my junior year, I shut down my blog and started writing for SB Nation, still following the Sabres. Later that year I got an internship with ESPN Ithaca, where I covered Cornell University, Ithaca College and local high school sporting events for the spring semester. I really enjoyed this job, despite the commute. During my time with ESPN Ithaca, I worked with Sports Information Director for Cornell men's hockey Brandon Thomas. I asked Brandon if I could work for Cornell for my senior year and he said yes. I mostly collected stats and handed them to the media, while facilitating the post-game interviews with the players. My job search was absolutely relentless. I applied to more jobs than I can count over the span of about six months. ESPN was the last one I applied to, and I didn't think I was going to get it.
When it came to getting this full time job at ESPN, my constant networking over the course of four years at HWS really helped when it was time to apply. I would reach out to people who worked for ESPN on LinkedIn and would ask if they would talk to me about the company. I talked to a few HWS alums that I met through working in admissions who were employees at ESPN. All I wanted was a chance to get my foot in the door with absolutely anyone I could. I think when it came down to it, that is what set me apart from other people, alongside my willingness to work hard.

I plan to stay at ESPN for as long as they let me. I love every second as an employee of ESPN and Disney. Their treatment of employees is second to none. There is a lot of upward mobility within the CAP program, which is what drew me to it. I'm not sure exactly what I want to do down the line, but I want to be in sports media. I'm keeping all avenues open under that umbrella.