OFFICE OF THE PROVOST
Dr. Titilayo Ufomata, Distinguished Professor, was appointed Provost and Dean of Faculty of Hobart and William Smith Colleges beginning July 1, 2012. Formerly the Associate Provost and Interim Director of Graduate Studies at Kentucky State University, Ufomata's career spans three decades of scholarship in Linguistics, Africana and Gender Studies as well as an increasingly complex portfolio of administrative duties. Since joining HWS, she has overseen the decennial reaccreditation process, a comprehensive review of the general curriculum requirements, and concluded a review of academic programs. As Chief Academic Officer, she provides executive oversight to the academic program, the faculty and academic support areas, and works with the faculty to strengthen the curriculum. As Dean of Faculty, she provides mentorship and support to all faculty colleagues. As a member of the Cabinet and staff member of the Board of Trustees' Academic Affairs Committee and the Committee on Compensation and Human Resources, Dr. Ufomata participates actively in shaping the strategic direction of the Colleges.
At Kentucky State University (KSU), a public liberal arts institution, Ufomata successfully led a number of initiatives including co-chairing the University Task Force on student Success and Retention, revamping the academic advising program, acting as a team leader on BEAMS (Building Engagement and Attainment of Minority Students), chairing the Taskforce on Developmental Education, and leading the centennial reaffirmation process. She has served as chair of Kentucky State University's Graduate Council and Graduate Appeals Committee as well as on the University's Strategic Planning Committee. She was involved in every major curricular assessment and review during her time at Kentucky State. A tenured Professor of Speech and Communication in the Division of Fine Arts, she was appointed Associate Provost in 2005.
Ufomata was twice named a Faculty Fellow at KSU, a meritorious appointment based on a faculty member's record of teaching and work place excellence. In 2005, she received the Tom Joyner Hardest Working Faculty Award, and in 2006, her peers presented her with the Distinguished Professor Award recognizing her excellence in teaching and research. In 2010, Ufomata's students acknowledged her dedication to teaching by making her an honorary charter member of the Nu Phi Chapter of the Alpha Sigma Lambda national honors society for non-traditional students. The State of Kentucky recognized her commitment to community engagement in 2010 by commissioning her a Kentucky Colonel for honorable contribution to the State.
Ufomata has received numerous prestigious awards including the Fulbright International Education Administrator Award in France, the visiting fellowship of the British Academy, Commonwealth Academic Staff scholarship (University College London), and the American International Visitor Fellowship. She was an associate of the renowned African Gender Institute at the University of Cape Town with responsibility for conducting research, and a laureate of the Gender Institute of the Council for the Development of Social Science Research in Africa, Dakar, Senegal.
The author of a number of articles and a book, Ufomata's scholarship has focused on the intersection of language, immigration, identity and gender with a special emphasis on Africa. She is a reviewer of African Studies Review: A Journal of the African Studies Association and a member of the editorial boards of Irinkerindo: A Journal of African Immigration and Jenda: A Journal of Culture and African Women Studies.
Born in Nigeria where she received bachelor's and master's degrees in English, Ufomata attended University College London where she earned a second master's degree as well as a Ph.D. in Phonetics.
Ufomata is an alumna of Harvard University's Institute for Educational Management, Hampton University's Executive Leadership Summit, and Bryn Mawr's HERS (Higher Education Resource Services) program designed to advance women leaders in higher education administration. She has participated in The Aspen Institute Deans Seminar and the American Council on Education's yearlong Institute for New Chief Academic Officers.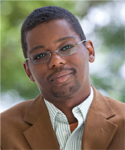 Lucas' primary responsibilities deal with faculty and curriculum development and support. He represents the Provost on the Committee on Academic Affairs, coordinates the First Year Seminar Program, and chairs the Bidisciplinary programs. In conjunction with the other members of the Provost's Office, he oversees course scheduling, faculty hiring, grants and endowments, faculty orientation and advising, and curriculum implementation. A member of the faculty since 2000, he is also an Associate Professor in the Political Science Department.
Dr. Virginia Mansfield-Richardson was appointed Associate Provost of Hobart and William Smith Colleges in October 2015. Formerly the Associate Dean of the Roy H. Park School of Communications at Ithaca College since 1999, Mansfield-Richardson was also an associate professor of communications at Pennsylvania State University, and has taught at Ohio University, American University and two community colleges. Mansfield-Richardson also had an award-winning career as a staff writer for The Washington Post for 12 years, and has been a reporter for two other newspapers and a national medical journal. Additionally, she worked in the East Asia and Pacific Division Headquarters of The World Bank, was a case manager for former U.S. Representative Thomas Luken, and worked for the Journal of the U.S. House of Representatives, the Library of Congress, Time-Life Books, and assisted in overseeing American University's Brussels, Belgium World Capitals program.
Mansfield-Richardson serves on the Board of Directors of the Assessment Network of New York and on the Editorial Board of the Newspaper Research Journal. She is the author of the book Asian Americans and the Mass Media, and she has written several book chapters, including The Essential Role of Chinese as the World's Leading Logographic Writing System in Global Communication, and Survey Says Asian American Journalists Endure Racism. She has testified as an expert witness on media coverage of Asian Americans before the U.S. Civil Rights Commission.
Mansfield-Richardson holds a Ph.D. in Mass Communications from Ohio University where she was recipient of the Outstanding Ph.D. Student award, a Master of Public Administration from George Mason University, and her B.A. is in Political Science from Ohio University. Mansfield-Richardson is an alumna of the HERS (Higher Education Resource Services) at Wellesley College.
Missy Weaver
Assistant Provost for Faculty Support
Weaver aids the Provost on faculty personnel matters, including compensation planning and instructional budget maintenance.
Switzer is responsible for instructional budget maintenance, including faculty travel and research grants. She also maintains course evaluations for First Year Seminars and Bidisciplinary courses for review/tenure cases, and is responsible for the staffing and management of the academic secretarial support.
CONTACT
The Office of the Provost
Coxe Hall
Second Floor
Phone: (315) 781-3304
Fax: (315) 781-3334
NEWSLETTER