Orientation:
Living/Learning Communities
Living/Learning Communities

Why Choose a Learning Community?
Participants in Living/Learning Communities tend to achieve higher grade point averages, make friends quickly, and transition into college life smoothly. The Colleges have a long history of promoting active engagement with Learning Communities, which have been linked to positive student engagement, overall satisfaction with college, increased interpersonal skills, and a greater understanding of diversity. In short, students who take part in a Learning Community leave their first year with the tools and resources necessary to be highly successful in college and beyond.
What is the difference between a Living/Learning Community (LLC) and a Learning Community?
LLCs bridge the academic world and residential world, as nearly all LLCs are taught in a hybrid classroom within the residence hall, known as a Residential Learning Lab. These labs are classrooms during the academic day, located right on your residence hall floor, and then a social/study space in the evening. They come equipped with standard smart classroom technology and have flexible seating arrangements to maximize use of the room. In addition, to being taught on your floor, faculty members work closely with residential education staff to create co-curricular programs that align with what youre learning in class and help students connect to their faculty member and each other in more intentional ways. As a team, the residential education staff, faculty, and writing/teaching colleagues meet monthly to update each other on the community and plan programs to continually engage students.
First-Year Seminar LLCs
For a full guide to first-year seminar descriptions, click here. If assigned to a LLC, you will reside on the same floor as all other students in the LLC.
CC-LLC (Creativity and Culture LLC)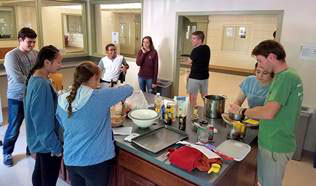 FSEM 004 Outsider Women: Activists, Artists, and Outspoken Women in American Popular Culture
Faculty Member: Elizabeth Belanger
FSEM 011 Britpop: From the Beatles to Brexit
Faculty Member: Rob Carson
FSEM 112 Through the Lens: French and Francophone Cinema
Faculty Member: Courtney Wells
The seminars in this LLC explore the ways in which creativity and culture interact. What elements of culture tend to inspire the creation of new artworks and new art forms? And to what extent is culture itself an artistic creation in its own right, something that we make together as a collective? In these seminars, we set out to engage creatively with issues related to art, literature, music, and culture in general.
SLLC (Sustainable LLC)
FSEM 078 Sustainable Living and Learning
Faculty Members: Darrin Magee, Robinson Murphy, Kristen Brubaker
The Sustainable Living and Learning Community is open to all incoming first-year students. There are no prerequisites for enrollment, nor is it necessary to have a history of work in sustainability initiatives. Instead, were looking for students who have a curiosity about the world around them, who want to learn more about the environment, and who enjoy classroom experiences that are active and varied. Click here for more information.
SJLLC (Social Justice LLC)
FSEM 042 Interrogating Race in the US and South Africa
Faculty Member: James McCorkle
This LLC encourages students to look at our lives, our communities, and society in ways that we may not yet have considered. Issues that relate to the dimensions of social class, racism, sexual orientation, gender identity, cultural reproduction, and the very nature of human existence are explored both implicitly and explicitly. While Interrogating Race tackles questions like do we live in a post-racial world or a new Jim Crow society and what is meant by white privilege, Beyond the Straight and Narrow asks how gender is constructed and heterosexuality granted privilege through the lens of lived experiences. Both courses work through similar texts and assignments, while engaged in a connected residential community.
Perseverance LLC
FSEM 117 Who Speaks in STEM
Faculty Member: Nan Crystal Arens
FSEM 139 Mars!
Faculty Member: Nan Crystal Arens
Perseverance: When the going gets tough, when you hit challenges, dig deep, build community, get support, and keep trying until you succeed. You might think that being successful as a STEM student just takes brains or some sort of magical talent. Yes, you need the smarts. AND you need perseverance. Just like that rover on Mars, we will make discoveries by cultivating perseverance, support and the skills you need to be successful in STEMor wherever your academic journey takes you.
MORE INFO
For more information, contact the Orientation Office at (315) 781-3041 or at orientation@hws.edu.