Orientation:
International Students
INTERNATIONAL STUDENTS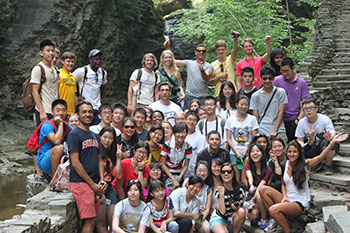 Welcome to the International Community at HWS!
Congratulations on your acceptance! It is with great pleasure that we welcome you to HWS and to our outstanding international community.
International students have a long history of noteworthy contributions to the HWS community through exemplary extracurricular and academic performance. We are confident that you will continue this legacy, and we look forward to welcoming you into a community eager to celebrate your achievements and contribute to your personal, academic and professional growth.
As you prepare to pack your bags and start an exciting new adventure, know that all of HWS's international community shares the common experience of leaving home to study in the United States. This tight-knit community is more than willing to offer insight and support throughout this process to make your transition smooth and enjoyable.
Throughout your time at HWS, we also hope that you find the International Student Affairs offices to be a place to share with other international students and join events that celebrate multiculturalism and world cultures, including dinners, workshops, multicultural events and outings.
We look forward to greeting you for the International Student Orientation, a special orientation that is specific to the needs of our international students. This mandatory program is held August 15-17, 2022, but students are required to arrive on campus Sunday, August 14 so that they can get settled into their residence hall before the program begins. It is our hope that this Orientation will give you a head start and chance to meet other current and incoming international students as you get acclimated to life here at HWS.
Important links
HWS I-20 application
Newly enrolled students should complete this form to begin the process of applying for the I-20 – Certificate of Eligibility from HWS.
Certification of Finances
In order to issue the I-20, we attest to the US Government that you have the funds needed for one full academic year. The Estimated Full Cost of Attendance for 2022-2023 is 81,551 USD. Please note that this estimate is an amount that includes expenses above the cost of tuition, room and board and fees. These incidental expenses reflect the costs associated with health insurance, books and supplies.
To determine what your certification should say, you should take 81,551 USD and subtract any financial assistance you received. What's left is what is needed on page 2 of the certification. Once completed, the certification of finances form must include one or more of the following: a bank officials' signature, certified bank stamp and/or certified bank statement. It should also include a parent and student signature, and can be emailed directly to admissions@hws.edu.
Please note, if you have received financial aid, you've receive $2000 in work study monies. This money is income you will earn once you arrive to campus, find a job and begin working.
SEVIS Transfer In Form
For students already studying in the US as an active F-1 Student.
MORE INFO
For more information, contact the Orientation Office at (315) 781-3041 or orientation@hws.edu.
Marylyn Uhnak
Associate Vice President and Director of International Student Enrollment and Success
Email: uhnak@hws.edu
Phone: (315) 781-3750
Text: (315) 290-3623
WeChat: hws_marylyn