Student Activities
Orientation Team Recruitment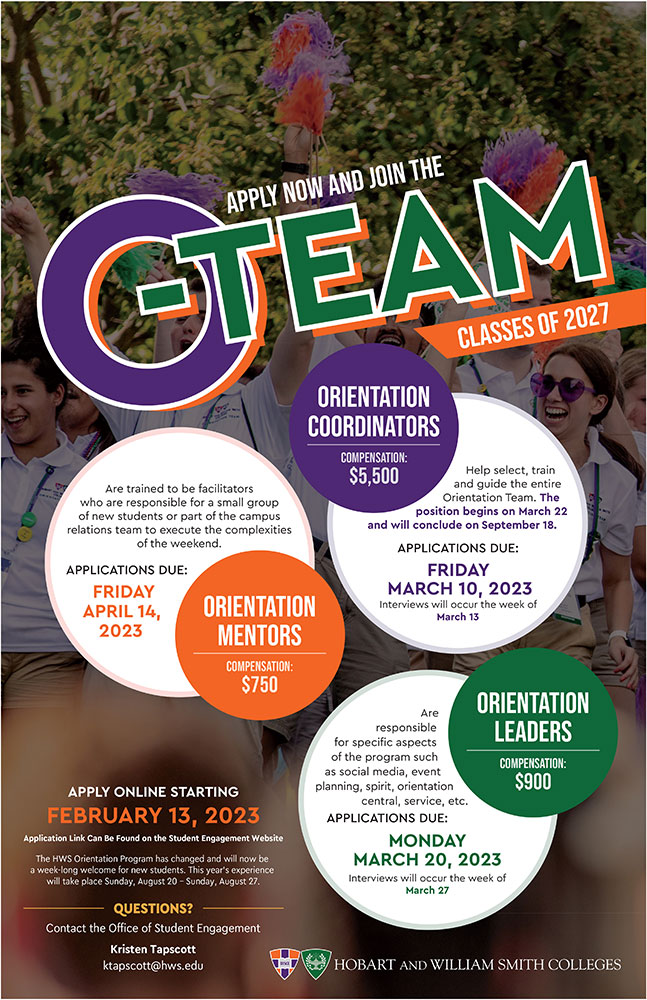 The Office of Student Engagement is excited to build our Orientation Team to welcome the Classes of 2027!
Applications will be available starting Monday, February 13
The Orientation Team will welcome and introduce all entering students and their families to Hobart and William Smith Colleges!
The O-Team works directly with Student Engagement and campus collaborators to welcome new students and their families to the HWS community! New student orientation will take place from Sunday, August 20 through Sunday, August 27. Following this week-long experience, O-Team members will facilitate new student outreach coordinated by Student Engagement during the first 3 weeks of the semester. The O-Team will assist with providing on-going support, encouragement, and resources to new students. Some examples include sending emails and text messages, bringing new students to Involvement Expo, meeting for a meal on campus, attending a campus event together. This continued outreach helps to ensure a smooth transition to the academic year and campus life.
Read the full job descriptions and compensation packages provided.
ORIENTATION COORDINATORS
Help select, train and guide the entire Orientation Team. The position begins on March 22 and will conclude on Sept.18. OCs report to campus on June 1 to begin the summer work experience.
APPLICATIONS DUE: FRIDAY, MARCH 10, 2023. Interviews will occur the week of March 13.
ORIENTATION LEADERS
Are responsible for specific aspects of the program such as social media, event planning, spirit, orientation central, service, etc.
APPLICATIONS DUE: MONDAY, MARCH 20, 2023. Interviews will occur March 27 - March 31.
ORIENTATION MENTORS
Are trained to be facilitators who are responsible for a small group of new students or part of the campus relations team to execute the complexities of the weekend.
APPLICATIONS DUE: FRIDAY, APRIL 14, 2023
ORIENTATION DATES
OL Training: Wednesday, August 13 - Saturday, August 19
OM Training: Wednesday, August 16 - Saturday, August 19
Orientation Week: Sunday, August 20 - Sunday, August 27
The O-Team experience will conclude on Monday, September 18
If you have questions about the application process, please contact Kristen Tapscott at ktapscott@hws.edu.