HUMAN RIGHTS AND GENOCIDE
Do events around the world today indicate that we have not learned much from history?
How do human-rights issues get resolved in conflict?
Why do we still see whole ethnic groups under attack by others?
By sponsoring this Genocide series, the Hobart and William Smith community hopes to improve understanding of all life-annihilation processes inherent in our modern world and to help participants learn more about the circumstances under which life-destruction processes tend to focus on specific groups in events known as genocide.
Supported by the President, the Provost, the Fisher Center, the Department of Religious Studies, the Zachor Fund of Rochester, and by Hobart alumnus Dr. E.P. Franks.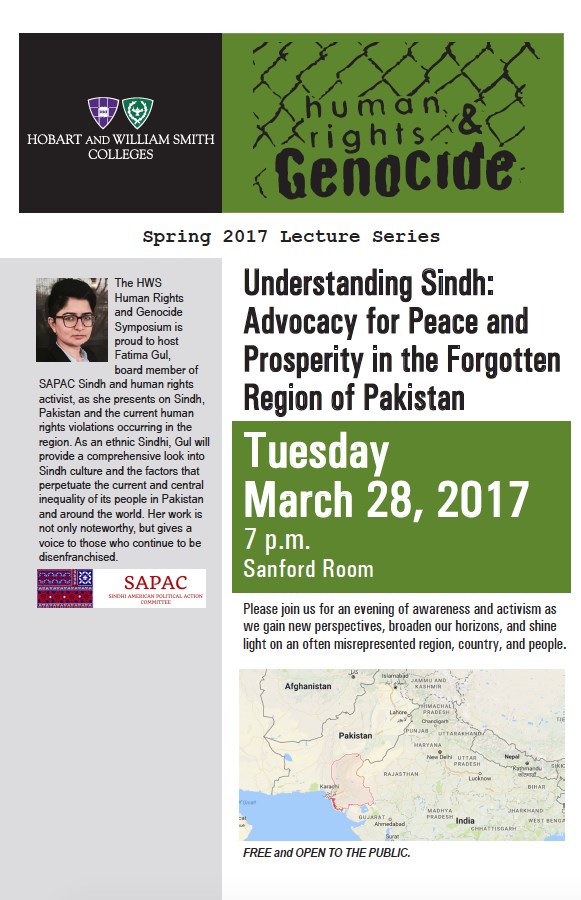 Spring 2017 Events
Tuesday, March 28, 2017: Understanding Sindh: Advocacy for Peace and Prosperity in the Forgotten Region of Pakistan
7 p.m., Sanford Room
The HWS Human Rights and Genocide Symposium hosted Fatima Gul, board member of SAPAC Sindh and human rights activist, as she presents on Sindh, Pakistan and the current human rights violations occurring in the region. As an ethnic Sindhi, Gul will provide a comprehensive look into Sindh culture and the factors that perpetuate the current and central inequality of its people in Pakistan and around the world. Her work is not only noteworthy, but gives a voice to those who continue to be disenfranchised.
Fall 2016 Events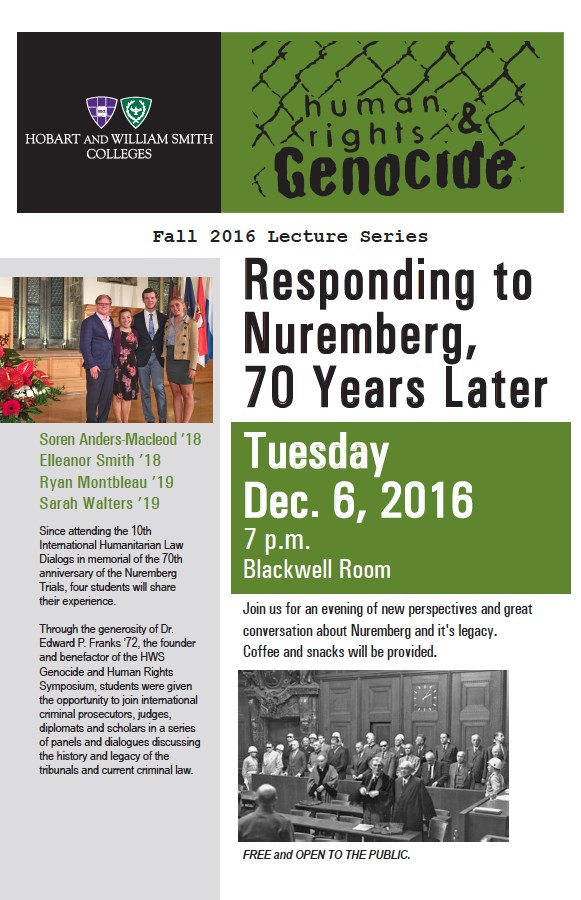 Tuesday, December 6, 2016: Responding to Nuremberg, 70 Years Later
7 p.m., Blackwell Room
In October 2016, students Soren Anders-Macleod '18, Elleanor Smith '18, Ryan Montbleau '19 and Sarah Walters '19 traveled to Nuremberg, Germany to attended the 10th International Humanitarian Law Dialogs in memorial of the 70th anniversary of the Nuremberg Trials. Through the generosity of Dr. Edward P. Franks '72, the founder and benefactor of the HWS Genocide and Human Rights Symposium, the students were given the opportunity to join international criminal prosecutors, judges, diplomats and scholars in a series of panels and dialogues discussing the history and legacy of the tribunals and current criminal law. Now back on campus, the four students shared their experience with the community, provided insight into the knowledge gathered through their experience, and engaged in dialogue with the HWS Community.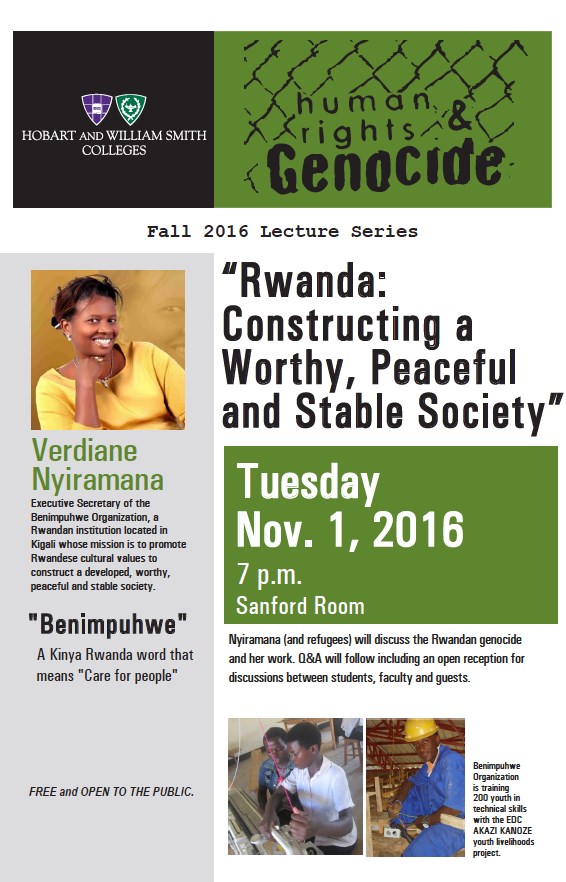 Tuesday, November 1, 2016: Verdiane Nyiramana on the Rwandan Genocide
7 p.m., Sanford Room
Verdiane Nyiramana, Executive Secretary of the Benimpuhwe Organization, a Rwandan institution located in Kigali whose mission is to promote Rwandese cultural values to construct a developed, worthy, peaceful and stable society.
Expert lecture/presentation by Verdiane (and refugees) about the Rwandan genocide, the RYC, and any other specific work/areas she specializes in. Q&A with visitors. Open reception for independent questions and discussions between students, faculty, and special guests.
Spring 2016 Events
Tuesday, March 1, 2016: HWS Students Take Action!
7-9 p.m., Vandervort Room
Join HWS students as we learn about, act on, and work to mend human rights injustice and genocide. Engage with students who have done work in the classroom, in their local communities, and in communities across the world.
Fall 2015 Events
Tuesday, September 8: Film Screening of Ararat, followed by discussion with Prof. Cazanave and Salter
7:30 p.m., Smith Opera House
A historical drama by the award-winning filmmaker Atom Egoyan, Ararat centers on the memory of the Armenian genocide and the transmission of collective trauma across lands and generations. Moving incessantly from 1915 to the present and from Armenia to Canada, the film connects several characters whose lives are haunted by the tragedy: a survivor who remembers his childhood while painting a portrait of his mother; a Canadian man of Armenian descent who travels to Mount Ararat in search of traces; a director who shoots a fiction film about the genocide; an art historian who lectures on the Armenian-American artist Arshile Gorky. A tale of loss, exile, identity, and cultural heritage, Ararat ultimately reflects on the ways in which a catastrophic past continues to weigh on the present.

Thursday, September 10: Professor Peter Balakian
7:30 p.m., Geneva Room
Peter Balakian is a poet and author of numerous books dealing with different aspects of the Armenian Genocide. He teaches English at Colgate University. His book Black Dog of Fate, deals with the inter-generational effects of mass trauma. It is also an American coming of age story that fits well with gender studies, American studies, and literature. His book The Burning Tigris charts America's response to various crises in Armenia at the turn of the 20th century. More information on Prof. Balakian can be found here.
Thursday, September 24: Father Patrick Desbois
7:00 p.m., Geneva Room
Fr. Patrick Desbois is the author of Holocaust by Bullet and founder of the international human rights group Yahad en Unum. His work has focused on forensic justice, starting with his work on the pre-death camp slaughter of Jews in the Ukraine and extending into forensic justice for the Roma people and following the Guatemalan genocide. For more information on Fr. Desbois and Yahad En Unum, click here, or visit his wikipedia page.
Tuesday, October 27: Prof. Judith Gibbons
7:30 p.m., Geneva Room
Prof. Judith Gibbons is Professor Emeritus of Psychology and Women's Studies at St. Louis University. Her work deals wtih the social, psychological legal and moral dimensions of inter-country adoption. Below is a publishers description of her book from Amazon.com. :
Intercountry adoption represents a significant component of international migration; in recent years, up to 45,000 children have crossed borders annually as part of the intercountry adoption boom. Proponents have touted intercountry adoption as a natural intervention for promoting child welfare. However, in cases of fraud and economic incentives, intercountry adoption has been denounced as child trafficking. The debate on intercountry adoption has been framed in terms of three perspectives: proponents who advocate intercountry adoption, abolitionists who argue for its elimination, and pragmatists who look for ways to improve both the conditions in sending countries and the procedures for intercountry transfer of children. Social workers play critical roles in intercountry adoption; they are often involved in family support services or child relinquishment in sending countries, and in evaluating potential adoptive homes, processing applications, and providing support for adoptive families in receiving countries; social workers are involved as brokers and policy makers with regard to the processes, procedures, and regulations that govern intercountry adoption. Their voice is essential in shaping practical and ethical policies of the future. Containing 25 chapters covering the following five areas: policy and regulations; sending country perspectives; outcomes for intercountry adoptees; debate between a proponent and an abolitionist; and pragmatists' guides for improving intercountry adoption practices, this book will be essential reading for social work practitioners and academics involved with intercountry adoption.
MORE INFO
Supported by the President, the Provost, the Fisher Center, the Department of Religious Studies, the Zachor Fund of Rochester, and by Hobart alumnus Dr. E.P. Franks.