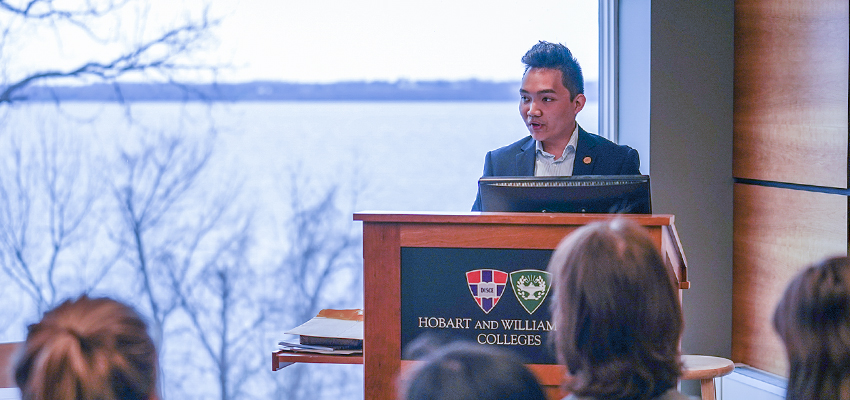 Degollado '19 Awarded Prestigious Diplomatic Fellowship
10 December 2021

Degollado '19 Awarded Prestigious Diplomatic Fellowship

Launching a career in diplomatic relations, Denzel Degollado '19 has been awarded a Charles B. Rangel International Affairs Graduate Fellowship that provides $90,000 in benefits, two internships and employment in the State Department as a Foreign Service Officer.

Following a highly competitive national contest, Denzel Degollado '19 has been selected as a 2022 Charles B. Rangel International Affairs Graduate Fellow. The honor will allow him to launch a career as a Foreign Service Officer as one of only 45 individuals to receive the prestigious award this year.

The Rangel Fellowship, funded by the U.S. Department of State and managed by the Ralph J. Bunche International Affairs Center at Howard University, supports extraordinary individuals who want to pursue a career in the U.S. Foreign Service.

As a Rangel Fellow, Degollado will receive approximately $90,000 in benefits over a two-year period to pursue a master's degree in international affairs or another area relevant to the Foreign Service, as well as two guaranteed internships over the course of two successive summers. Degollado will complete a 10-week Congressional internship on Capitol Hill this summer, followed by a 10-week position at an international embassy the following year.

After earning a masters degree, he will join the U.S. Department of State as a Foreign Service Officer.

I am extremely honored to receive this Fellowship. Not only will this opportunity expand on the lessons I've learned at Hobart and William Smith, but it will provide me with a rewarding career where I can apply what I've learned in the classroom as well as carry out the spirit of service that my time in Geneva has instilled in me, says Degollado, who now works as an associate at Finsbury Glover Hering, a leading global strategic communications and public affairs consultancy in New York City. He previously worked as an advancement fellow for Shining Hope for Communities for two years and for a year as a Newman's Own Foundation Fellow.

At HWS, Degollado majored in international relations and French and Francophone studies, studied abroad in Aix-en-Provence, worked in the Office of Advancement, served as a tri-chair of the Stewardson Society, and was a member of the HWS Judicial Board and the Campus Activities Board. He was also a Druid, Posse Scholar, Theme House Manager of the QPoC House and Peer Conduct Mentor.

HWS has been foundational in my interest in this field and in preparing me for graduate studies; whether that be through the leadership positions and extracurricular activities that I took part in or in my classes. My time studying abroad was also essential in deepening my interest in international relations, he says.

In particular, he recalls two HWS abroad courses. The first explored the history and connections between France and the Middle East and North Africa (MENA) region, especially the intersection of economic, political, and cultural phenomena between the two regions. The second is a religious studies course that he says offered a field studies component which allowed him to interview members of the religious community throughout the south of France.

Degollado says he looks forward to and is most interested in pursuing a public diplomacy or political affairs career track with the U.S. Department of the State.

In the photo above, Denzel Degollado '19 makes his portfolio presentation for French and Francophone Studies in spring 2019.