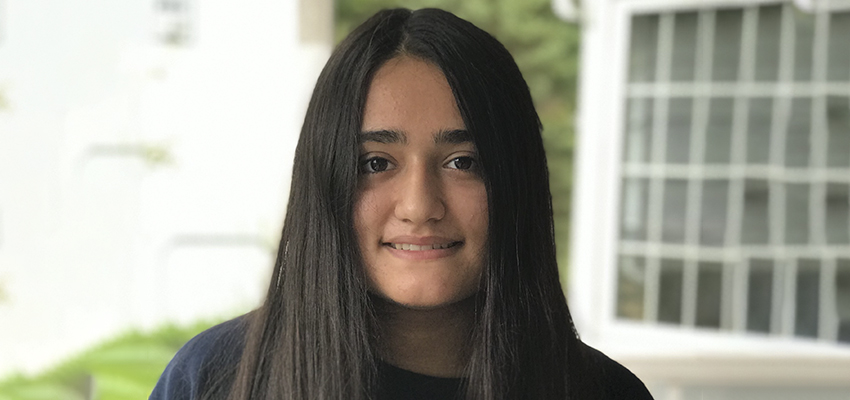 HWS NEWS
16 July 2022

Writing Her Story, Mughal '25 Reflects on First Year at HWS

In her first year at the Colleges, Sophia Mughal '25 emerged as a promising writer. As she discovered her academic interests in political science and religious studies, and involved herself with clubs, she also won the First Year Writing Prize and joined the Writing Colleague Program.
What is the biggest difference between being a high school student and a college student?
The biggest difference between being a high school student and college student is the increase in autonomy. As a college student, without the regimented class schedule that I had in high school, I have had far more control over my time and how I spend it. Further, in college, without strict subject-based requirements, I have had the ability to curate my class schedule based on my interests, goals and future career plans.
Favorite course?
My favorite class so far has been "Israel, Zionism, and Middle East Conflict" with Professor of Religious Studies Michael Dobkowski. We examined the basis of Zionism as a movement and its motivations, the history of immigration to Palestine and Israel, the development of the State of Israel and the many complex origins and dimensions of the conflict there. As someone who is intending to major in religious studies and political science, this course captured the intersection between religion and politics, which is of immense interest to me.
Best part of living in a residence hall?
My favorite part of living in a residence hall is the proximity to my friends and our ability to use shared spaces socially. My friends and I would often use the common room TV to watch movies and sports matches.
Where have you found community on campus?
I have found community through the various clubs I'm involved in on campus. Through involvement in clubs, I have found like-minded individuals who share similar aspirations, passions and the motivation to further a shared goal.
What were you most surprised by this year?
When matriculating at HWS, it was my intention to be a political science major, but I wasn't entirely sure what my minor or potential second major would be. After filling out the academic interest form at the Dean's request, I was placed in Religion 274. Through this class, my interest in religious studies was sparked and now I intend to major in this subject area.
What are you most proud of yourself for accomplishing this year?
I am most proud of becoming a Writing Colleague. I was recommended to apply by a professor, successfully went through the application process and was selected to take the Writing Colleagues Seminar. Through this experience, I have become a member of a vibrant writing community dedicated to the improvement of my own writing and that of the larger HWS community.