Dr. Wangari Maathai Sc.D.'94, P'94, P'96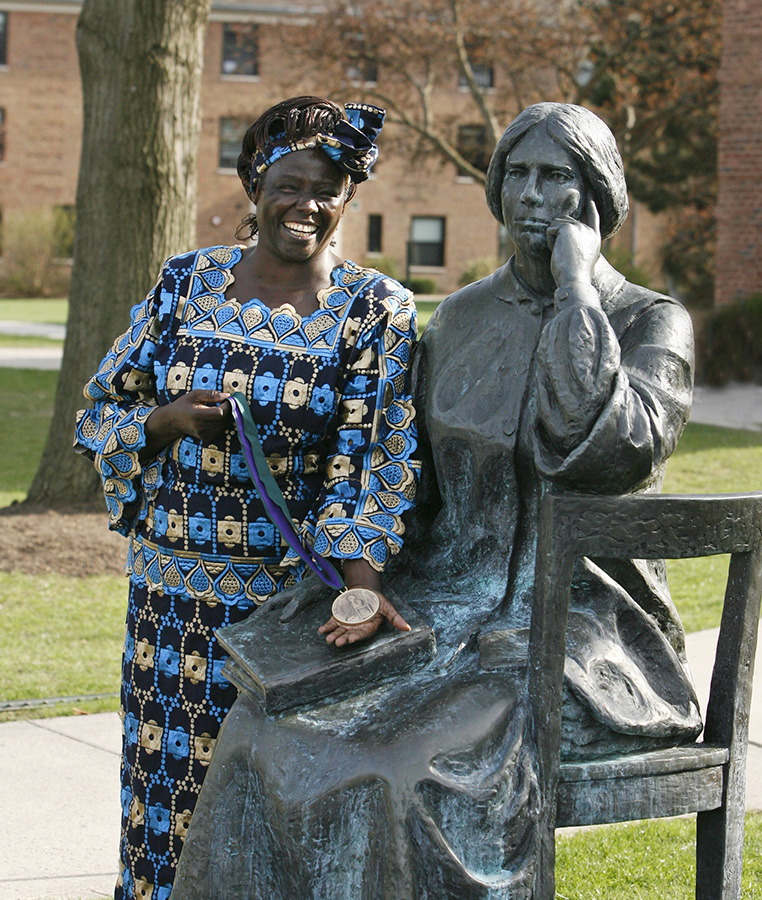 A civil society and women's rights activist, Maathai is the founder of the Green Belt Movement, an organization devoted to conserving the environment and improving the quality of life for African women through leadership and entrepreneurial skills
Born in Nyeri, Kenya, the daughter of farmers in the highlands of Mount Kenya, she attended college in the United States and earned her Ph.D. from the University of Nairobi, where she also taught veterinary anatomy. She became chair of the Department of Veterinary Anatomy in 1976, the first woman in the region to do so.
Through her visionary efforts with the Green Belt Movement, Maathai has helped women plant more than 40 million trees across Africa, significantly improving the environment by curtailing the devastating effects of deforestation and desertification. Today, 6,000 village-based tree nurseries - run entirely by women - have been established in Kenya and the Green Belt Movement has spread to more than 30 countries.
In the course of her work as an activist, Maathai has been tear-gassed, beaten, imprisoned and has almost died. During the regime of President Arap Moi, she was violently attacked for demanding multi-party elections and an end to political corruption and tribal politics. In 1989 Maathai almost single-handedly saved Nairobi's Uhuru Park by stopping the construction of the 60-story Kenya Times Media Trust business complex.
In 1998, Maathai joined the campaign of the Jubilee 2000 Coalition. As co-chair of the Jubilee 2000 Africa Campaign, she played a leading role in seeking the cancellation of the overwhelming and unpayable debts of poor countries in Africa. She also has campaigned tirelessly against land-grabbing and the theft of public forests.
Maathai is internationally recognized for her persistent struggle for democracy, human rights and environmental conservation. She has addressed the United Nations on several occasions, and she spoke on behalf of women at special sessions of the General Assembly. She has served on the U.N. Commission for Global Governance and the Commission on the Future.