Faculty Fellows
Each neighborhood will have a faculty fellow. This faculty member engages in dialogue, neighborhood and department planning, and program development. The program is designed to engage students in residence halls to enrich the academic experience.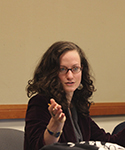 Faculty Fellow for the William Smith Hill Neighborhood
Hannah Dickinson is an assistant professor of Writing and Rhetoric and director of the Writing Enriched Curriculum. She also co-directs the Writing Colleagues Program and the Critical Social Studies major. Hannah is also a member of the Fisher Center Steering Committee and the Sexual Violence Task Force, and she is the faculty athletic fellow for the Hobart football team. Hannah teaches classes on discourse analysis, literacy studies, writing studies, and critical theory.
Hannah grew up in Concord, New Hampshire and attended Haverford College, where she developed a love for writing and the liberal arts. She then went on to teach social studies in New York City and discovered a passion for social justice education and teaching writing. Hannah received a joint PhD in English and Education from the University of Michigan in Ann Arbor where she studied the ways students write about violence in college courses.
When she's not reading, writing, or teaching, Hannah enjoys cooking and reading any kind of fiction she can get her hands on. You can often find Hannah walking along the lake or hanging out in front of Smith with her dog, Ollie.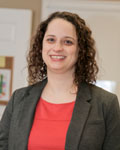 Faculty Fellow for the Jackson, Potter, and Rees Neighborhood
Robin Lewis is an Assistant Professor of Environmental Studies and Chair of the Sustainable Community Development (SCD) program. Robin has been teaching for 10+ years at the college level and, as a four-time FSEM professor, particularly enjoys working with first-year students. Both on and off campus, Robin is an advocate for all things "local" and "sustainable." She is also an instructor in the JPR living/learning community, SLLC.
In her free time, she enjoys hiking, gardening, making jewelry, taking photographs, and doing pretty much anything else requiring creativity. Robin also prides herself on her vegan cooking and baking skills.
CONTACT
Office of Residential Education
101 St. Clair Street,
Geneva, NY 14456
Phone: (315) 781-3880
Fax: (315) 781-4026
Email: resed@hws.edu
Online Housing